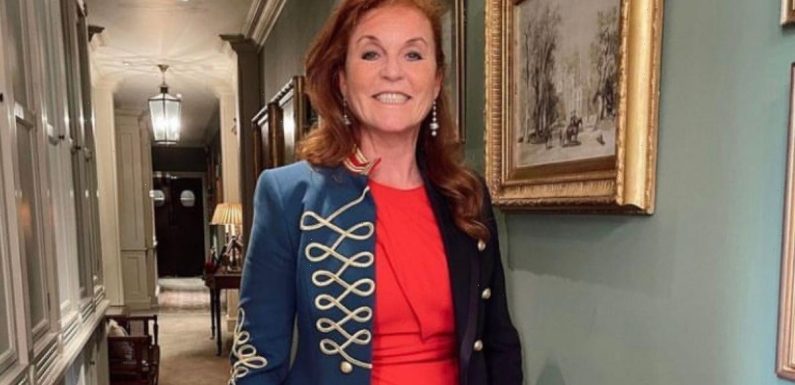 We use your sign-up to provide content in ways you've consented to and to improve our understanding of you. This may include adverts from us and 3rd parties based on our understanding. You can unsubscribe at any time. More info
Sarah Ferguson has already been busy this year as she has been spotted at various engagements across Europe, most notably promoting her new book, Her Heart for a Compass. The royal often shared photos of herself on social media, and, in her latest post, the Duchess looked stunning in a red dress.
Sarah shared a photo of herself in a gorgeous red dress worn underneath a military-style jacket.
Her dress seemed to feature a tight-fitted bodice and a slightly pleated skirt.
It had a cinched in waist that accentuated Sarah's figure.
Her military-style jacket was a teal colour with darker sleeve cuffs and adorned with gold detailing.
View this post on Instagram

A post shared by Sarah Ferguson (@sarahferguson15)
It also had gold buttons and an upturned gold and red collar.
As for accessories, it seemed Sarah was wearing a silver watch and silver, dangling earrings that almost reached her shoulders.
The earrings seemed to be made of small, circular pearls and one square-shaped diamond on each earring.
Her red locks were swept back in natural waves, which fell past her shoulders.
DON'T MISS:
Skincare experts share 'key' to preventing 'wrinkly and saggy' skin [EXCLUSIVE]
A review of Leonardslee House and Restaurant Interlude [COMMENT]
Expert shares humane deterrents to keep squirrels out of your garden [GUIDE]
She wore her usual make-up look of dark mascara, eyeliner, and a little blusher on her cheeks.
In her photo's caption, Sarah wrote: "Lots to smile about lately! And it is very important to remember that there is always something to smile about."
Royal fans were quick to comment on the Duchess' photo, complimenting her look. Instagram user @annelkeating wrote: "Great photo."
Ffion Moyle commented: "Sarah looks lovely here."
User @prfried wrote: "You look amazing. Keep up your writing too and your great children's book recommendations. In fact… just keep up everything."
Sarah is a huge fan of military-style jackets and has worn similar ones to her teal and gold version countless times in the past.
In May last year, when the Duchess donned the Tetsu beige military blazer from The Extreme Collection, fans took to social media to discuss her penchant.
User @lc_houridis wrote: "Another day, another military jacket."
View this post on Instagram

A post shared by Sarah Ferguson (@sarahferguson15)
Instagram account @haley_deanna added: "I really don't understand her obsession with military style." When she wore a red military-style blazer in Budapest in December last year, user @ciaramquill wrote: "Sarah would want to forget the tin soldier impression outfits."
User @plbatch56 commented: "Okay her girls need to step up and rid her closet of these jackets and get her to the beauty parlour for a good haircut. There, I said it."
User @luxmeagainpreloved said: "I'm personally not a fan of the military look. I did have one years ago. But she really likes them and they look good on her in my opinion."
Emma Hurley added: "I think we need to give Sarah a pass on the military jackets – they are clearly her signature look. I like red on redheads, but I agree with others that neater hair would improve this look."
Source: Read Full Article