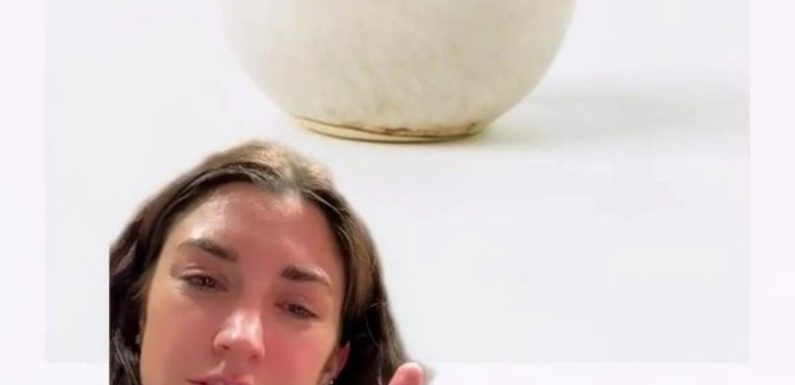 SHE was convinced she had just bagged a cute set of soup bowls at a bargain price.
But when TikTok user Lauren (@lo_wens) saw what she had just spent almost £20 on, she was lost for words and took to social media to share the hilarious blunder.
''I can't believe I did this,'' she was embarrassed to admit the fail in the now-viral video.
''I ordered these bowls from H&M Home the other day and they say 'Small', but they look like you could eat a soup out of it right?''
Priced just a little under a fiver, the deal seemed to good to sleep on and Lauren – believed to be from the US – ordered a set of four.
However, upon receiving the parcel, the shopper immediately realised something wasn't right – the box was teeny.
READ MORE ON FOOD
I'm a home cook and I made my entire Sunday roast in my Air Fryer
People are only just realising how to open tight jar lids in seconds
After unwrapping one, Lauren was mortified when she saw how small the bowl was; it was big enough for a shot of energising espresso.
Demonstrating the purchase, the shopper chuckled: ''I guess it would be cute for a soy sauce dipper but I want some soup!''
She added in the caption: ''Well looks like I need some cute soup bowl recs.''
Since being uploaded on TikTok just two days ago, the clip has already taken the platform by storm, racking up over 860k views.
Most read in Fabulous
I'm a gypsy girl and these are the biggest misconceptions about my community
I was Prince Harry's Army instructor – 'suicide' training story is fantasy
Harry & Meghan 'won't join Charles & Camilla at palace for Coronation moment'
Plans for Charles' Coronation revealed including three-day bash & concert
Much to her surprise, eagle-eyed viewers pointed out that the store had mentioned the dimensions of the product.
''The website literally says 1.5" tall and 2.5" round clear as a day,'' chuckled one person.
FABULOUS BINGO: Get a £20 bonus & 30 free spins when you spend £10 today
Another added: ''Reading is not your strong suit it seems.''
A third shared their suggestion: ''New shot glasses.''
After going viral and being slammed for not having read the description properly, Lauren hit back at all the meanies.
''Totally my bad, got a little too impulsive without reading the specs.
''You wanna know the irony of all of this?
''I work for an online jewellery company and oftentimes people will get the piece and say 'Oh, it wasn't the size I expected'.
Read More on The Sun
Major update to Netflix with new rule change to impact viewers
Doctors told me my baby would weigh 9lbs at birth, but they were way off
''We're always like 'The dimensions are in the description, hello?'
''So I get it, I get it.''

Source: Read Full Article