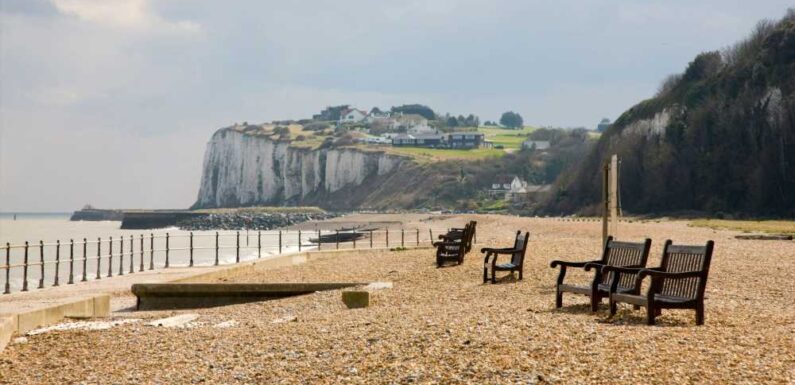 A MUM has revealed she takes her kids to the beach at 4am to avoid heavy crowds. 
Ali took to her social media page to explain that while it might be initially tiring, it's so worth it as you have the entire beach to yourself. 
Waking up while the sky was still relatively dark, she told viewers: "I thought it would be a great idea to wake up at half past three in the morning and watch the sunrise."
After walking to the beach, they set their towels down and changed into their swimwear to enjoy the crisp water. 
"They were a little grumpy when we got there, not gonna lie," she said, before revealing they brought their dog with them. 
She continued: "Then we went into the sea. When I say we went in, they kind of paddled and I got most of the way in but it was a little cold.  
read more fabulous stories
Shopping expert's £3.50 travel essential save room in your suitcase
I found the best leisure centre for kids in London – with slides and soft play
"But they did have a really good time jumping in the waves and stuff." 
The kids then changed into their jumpers and wrapped themselves up into blankets as they enjoyed some breakfast, which consisted of cereal with fresh raspberries and blueberries. 
Explaining that Ali wanted to have another dip in the water, she confessed that the water was freezing. 
"But it was so so nice, like when you come out of the water, the feeling you feel," she said. "It was like a complete natural high. It was so lovely."
Most read in Fabulous
The sun's at the top of your chart and you are at the peak of your game
I'm interior guru – 10 hacks to make your home look way bigger than it actually is
I'll get into debt to give my kids brand new birthday presents
I'm 50 and fabulous, mature women can wear bikinis too, I'm a hot mom
The kids then did a little climbing in different areas of the beach before making what they called a "snail base". 
After enjoying some quality time and the stunning sunrise on the beach, the family packed everything up in the car and returned home. 
"I'm knackered now but it was so, so good," Ali said. "We'll definitely do it again." 
And in the caption, she restated: "I'm shattered now but it was amazing". 
People flocked to the comments as one person asked: "Which beach?" 
Ali replied: "Just at the start of Kingsdown in Kent". 
Another said: "How do you have motivation for this, I wanna do it so bad lol xx."
A third shared: "What a lovely idea …many thanks for sharing," followed by a thumbs up emoji. 
TikTok user @im.winging.it.too responded: "It was so good, will definitely be doing it again xx". 
"Core memories unlocked. Love this so much," a fourth person posted with a red heart emoji. 
Ali replied: "Exactly that," with a red heart emoji. 
If you're travelling down to the area and fancy an adventure, you can stay in the Kingsdown Camping site for £10 per adult and £6 per child off-peak between Sunday and Thursday. 
And it's £12 for adults and £7 for children from Friday-Saturday. 
There, you can pitch a tent or gazebo before heading off The Nag's Head for a drink. And in the summer evenings, local food vendors join the area to offer guests a variety of meals. 
Read More on The Sun
Inside Miley Cyrus' family feud as her siblings take sides after parents' split
I wear PJs outside – I just tuck them in but statement heels complete the look
Meanwhile, these are the best UK campsites with a twist – featuring mini festivals, tobogganing & even roller coasters. 
And one mum has revealed the best family-friendly UK campsites that are next to the beach and have amazing play areas.

Source: Read Full Article