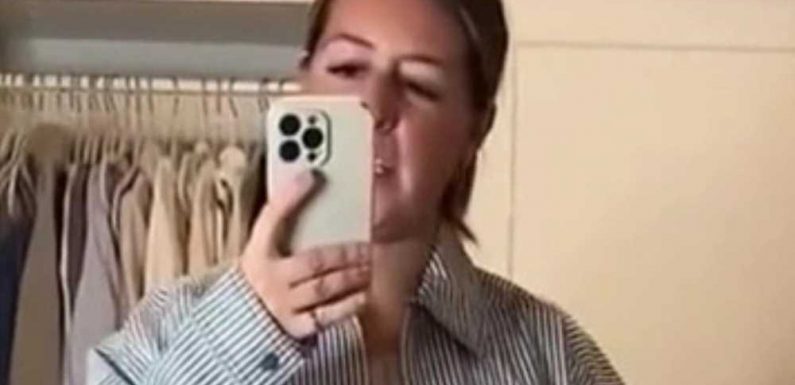 WE'VE all fallen in love with clothes on the hanger, only to be hugely disappointed when we try them on.
That's exactly the scenario one fashion fan named Sophie found herself in when she decided to purchase the viral H&M 'twill utility jacket,' which costs £29.99, and the coordinating £19.99 'twill cargo trousers.'
Sophie, who posts under the handle @sophieclarewhite, took to TikTok and shared a video where she's seen dashing to her local high-street store.
"I've seen a striped set in H&M that I'm desperate for so I've come into town to come and find it," she explains.
In a second clip, she then tries on the striped co-ord at home in both the striped beige and black, and blue and white version.
Starting with the beige and black, she quips: "I look nuts like truly – even with cool trainers on!
READ MORE ON SHOPPING
Boohoo fans are rushing to fill up their baskets after spotting mega sale
I tested the best wines in a can from supermarkets – the winner was a Rosé
"I look like I just escaped!
"This does not suit me – even with all the delusional confidence in the world."
Sophie then proceeds to try on the blue and white striped version.
FABULOUS BINGO: Get a £20 bonus & 30 free spins when you spend £10 today
"Let's bear in mind my body can look shapely – it can look OK," she says.
Most read in Fabulous
I refuse to date ugly women – I may die single but don't care, I have standards
I work at Aldi – here are the bargain buy pet items hitting shelves TODAY
I'm a professional bikini waxer – what we think of you based on your knickers
Mum-of-11 who has eight baby daddies says people always make assumptions
"It does have nice bits to it, you know?
"The vibe I'm going for is cool, Copenhagan, quirky girly.
"Is this cool? I don't know! Or sexy banana in pyjamas are going up the stairs…"
After much deliberation, she concludes: "I have decided that this just doesn't suit me.
"I think the colours are fine, the stripes are lovely, the actual fit of it is too boxy.
"It just cuts me off in all the wrong points.
"If you have to think about it too much it's not nice – it's not confidence, it's just this is not made for my body."
Turning around, she adds: I do like my bum in these, though – so that's a win!"
The video has since gone viral, racking up over 117,000 views and many comments from fashion fans up and down the country.
"Mmm its giving me prison jumpsuit vibes," joked one.
"Trousers yes but no to jacket," noted another.
A third suggested: "I'd maybe wear it with the jacket open. I'm proper digging the set but I have a feeling it will not suit me."
Meanwhile, a fourth wrote: "Reminds me of boy in the striped pyjamas."
Read More on The Sun
Iconic fashion brand could be SOLD after disappearing from high street
A TK Maxx super-fan has shared what the codes on price tags really mean
Another quipped:"I can't unsee bananas in pyjamas now!"
And one more simply penned: "Noooo!"
Source: Read Full Article