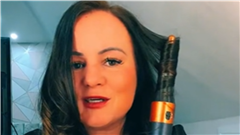 THE Dyson air wrap, for its multi use and quick action appliances, has become one of the most sought after gifts.
But one mum was left frustrated after her attempt didn't quite go to plan.
Jules Spence posted a video to her @SparklingJules TikTok page as she prepared to celebrate her daughter Poppy's birthday on Christmas Eve.
The mum-of-three had used the £449 tool to curl both sides of her hair.
But by the time she was finished, the first side had already flopped.
She said: "This side has lost its curls.
"I'm going to have to do it all again."
As she's midway through Jules begins to question whether she should just straighten her hair and "go without the curls".
And she realises she's been using the wrong head on the air wrap and has to change to the opposite side.
Frustrated at the process she says: "See when I was young, you had a machine, tongs where you put your hair in it and it curled it.
Most read in Fabulous
Strictly feud 'revealed' as Hamza unfollows Giovanni
Next to make huge change – and shoppers won't be happy
Harry says Wills 'attacked' him and ripped necklace in bombshell book
Dancing On Ice first look as Love Island & EastEnders superstars join pros
"Now it's all about the air flow."
After topping up the first side she now has to redo the other side and says: "Why do we even bother anyway!"
But after both sides are finally finished she concluded she would have been better just straightening her hair as she didn't even manage to get to the back of her hair.
She said: "Curls are done and they're all falling out.
"I should have straightened it.
"I just pray no one walks behind me because I didn't even get that far.
"So yeah, we're winging it."
She posed in front of her Christmas tree when she'd finally finished wearing a black dress with mesh sleeves and a red lip to complete the look.

Source: Read Full Article