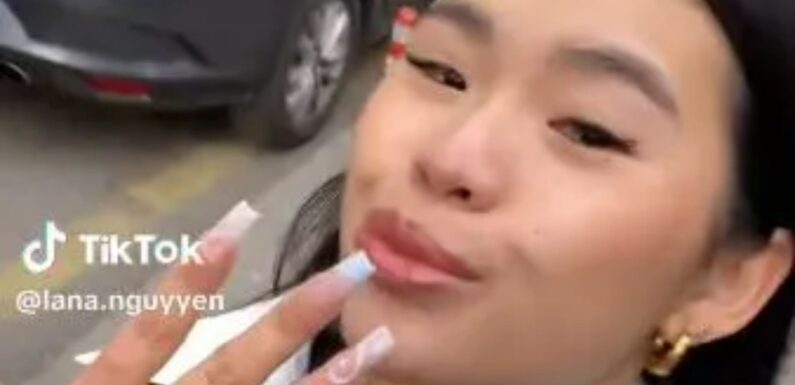 A WOMAN has revealed that she jetted to Turkey to get her nails done on the cheap, but was left with mixed reviews on her manicure. 
German beauty fan, Lana Nguyyen, explained that whilst in Ankara, the capital of Turkey, she got an acrylic infill manicure.
But she didn't go to a typical nail salon like most would, instead she went to a woman's house for the beauty procedure.
While Lana claimed that the appointment took two hours and she was left with bubbles in the nail varnish, she revealed that she paid just £14, so wouldn't complain. 
Lana took to TikTok to document the process, as she shared her video with the caption 'Get my nails done with me in Ankara.'
She said: "I'm Lana and today we get my nails done. Let's go."
Read more beauty stories
I got acrylic nails but it was a total fail – people say they look like teeth
I went to Turkey & got my lashes and nails done – it only cost me £14 in total
In the clip, we first saw Lana travelling to her nail appointment.
She continued: "I found my nail tech on Instagram and asked for an appointment and then she sent me her private address on WhatsApp."
Later in the video, once she had arrived at the beautician's home, Lana filmed the nail expert's cat and then showed off her nails, prior to getting them done.
She added: "These were my nails before and I got them done in Berlin.
Most read in Fabulous
No end in sight for Harry & William feud after coronation snub
Meghan Markle 'welled up' while accepting gong at glitzy New York gala
People are just realising what the secret buttons on McDonald's cups are for
My hubby is useless- we've got 4 kids & I do practically everything
"I've had them on for six weeks already."
As she looked at the colours, she noted: "These were all the colours that I could choose from.
"And then we started off with the manicure.
"I really liked the result because it looks so clean and she even fixed my broken nail.
"It took me a while to choose a colour for my nails because I had a different idea in my head, but she didn't have the right colour there, so I definitely recommend you to send her a picture of your nail art idea first and then she can check if she has everything there.
"I really, really like her because we always have nice conversations and by the way she can speak Russian, Ukrainian, Turkish and English.
"Also, she is the only person that I know who will refill your nails without doing a whole new set."
After getting her infills, she showed off her fresh nails and explained: "This is the final result.
"I really, really love the colour and the French design.
"But it took her two hours which is a little bit too long for me.
"As you can see I have little bubbles in there. 
"It's not a big deal for me and I would still highly recommend this place.
"I paid about 350 Lira." 
WIN A HOLIDAY TO MEXICO FOR TWO WORTH UP TO £6K!
Fancy winning a dream holiday to Mexico for you and a partner, worth £6,000?
Fabulous has teamed up with the five-star Hard Rock Hotel Riviera Maya to give you the chance to win a seven-night, all-inclusive holiday for two, with return flights courtesy of Thomas Cook.
All you need to do to enter is vote for your favourite hair, make-up and skincare products in the Fabulous Beauty Awards 2023.
Plus, there is £17,000 worth of beauty goodies up for grabs! Click here to vote.
Lana confirmed that she paid 350 Turkish Lira for her infills, which is the equivalent of £14.24.
While the cost of infills varies massively in the UK, beauty fans can expect to pay an average price of anywhere between £20-£40. 
Lana's clip has quickly amassed 51,800 views, 4,086 likes, 19 comments and 4 shares.
But social media users were left divided at Lana's manicure – while many German beauty fans were impressed with the prices, others weren't too keen on the actual manicure.
One person said: "This is really cheap and also looks nice, wow."
However, another added: "So that's cheap but they really don't look nice." 
Read More on The Sun
Vet nurse reveals the best dogs for first time owners & those to AVOID
I took a cheeky week-long break in Spain without using annual leave – here's how
Someone else commented: "You can see the nails underneath."
Fabulous will pay for your exclusive stories. Just email: fab[email protected] and pop EXCLUSIVE in the subject line.

Source: Read Full Article