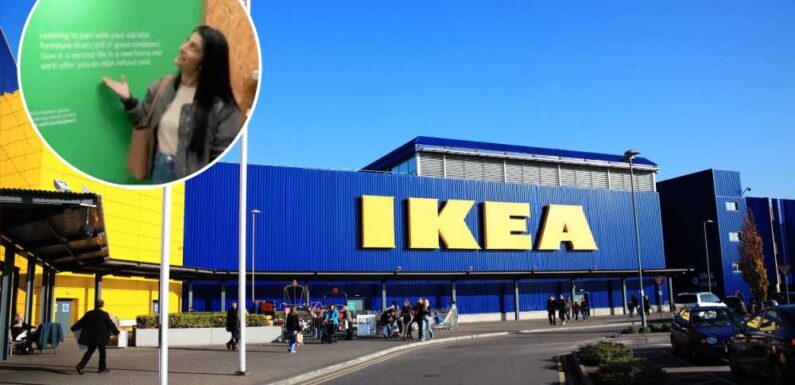 IKEA fans are rejoicing as one savvy shopper has revealed how you can get your favourite homeware for loads less.
Anita Birges, from Australia, shared three tricks everyone should know for their next trip to one of the massive stores.
Posting on Instagram, the home organisation pro explained that most Ikea stores have an 'As-Is' section.
This is usually located towards the end of the shop and it's where you can nab "preloved furniture, discounted items, gently used and even ex showroom displays at a discounted price," Anita explained.
In the clip she showed of huge baskets full of curtains for 40 percent off, as well as loads of other bargains.
And if you want to skip the first half of Ikea and just go straight to the marketplace, you can do that too.
READ MORE ON IKEA
DIY pro reveals dressing room using Ikea bargains & it's giving Molly-Mae vibes
Mum transforms daughters' shared bedroom into 2 spaces with a bargain IKEA buy
Anita said you can always enter through the exit rather than following the arrows around the entire showroom like a maze – although it might be quite good if you're trying to get some steps in.
"When I come to Ikea I want to get in and out as fast as possible and get the organising solutions I need without having to do that massive walk through," she said.
After you've grabbed everything you need you can also ditch any extra cardboard before you even get home.
Anita said: "There are blue bins just off the Ikea car park that you can recycle all your flattened cardboard."
Most read in Fabulous
Meghan & Harry's pal denies claims they're 'taking time apart' amid rift rumours
I fat-shamed another mum at soft play – but she started it
I hid from neighbours but privacy fence means I can hang washing out in my pants
We went shopping just in the kids' section of Primark but we're not small women
So, it might be work unboxing a few things before you drive off.
Other shoppers were impressed with the handy tricks and couldn't believe they didn't know about them sooner.
One said: "I didn't know you can go through the exit, what a time saver."
"Oh no, I've been doing that for years, now everyone will be," a second commented.
"The As-Is section is our fave. We've picked up some really great items," another wrote.
"I gave up on Ikea because it took so long to get out, you are a legend," someone else said.

Source: Read Full Article