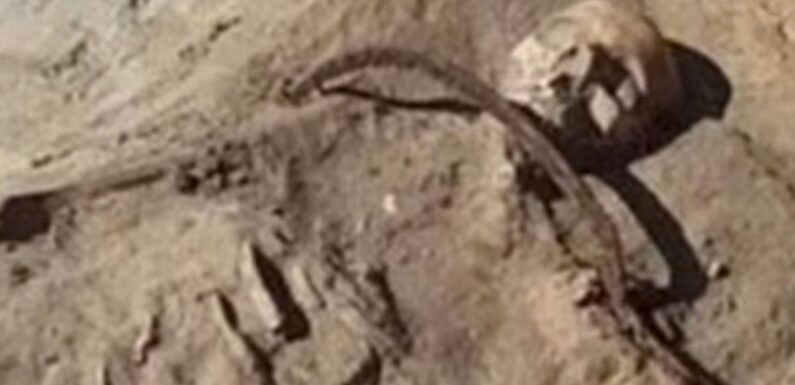 Buried face down and padlocked, the body of a 'zombie' child has horrified those who found it, and those who buried it there originally.
Believed to have been placed on their stomach so it would not "attack the living" at the time of its burial, archaeologists made a grim discovery of a boy believed to be six or seven-years-old.
The padlocked 17th-century discovery was recently made and has since been linked to ancient fears of the undead. Taking precautions against the corpse, those who buried the child were seemingly terrified of potential supernatural forces.
READ MORE: UK's 'most haunted' island mapped with every sighting – 'groaning patients to ghost pub'
For the latest chilling finds from across the globe, click here.
Uncovering the body buried in a way which would prevent it sitting up in the grave, the superstitious burial was a point of interest for Professor Dariusz Polinski. The medieval burials researcher has since said the burial was to prevent harm to "the living", the Daily Express reported.
Those unconvinced by the completeness of death would sometimes bury the bodies of the deceased facedown, making sure the dead would "bite into the ground and not harm the living", according to Professor Polinski.
Supernatural entities like zombies, ghosts and vampires were believed much more back in the 17th-century, but modern times now show the fictional horrors are less likely to exist.
The remains, reportedly found in Toruń, Poland, were discovered alongside 30 other people at a site which has been dug up by archaeologists for over a year. Experts previously found the remains of a woman at the site.
She was found with a sickle around her neck and it is believed to have been placed there as a weapon to keep her in the afterlife. Speaking about the tool, Professor Polinski said: "The sickle was not laid flat but placed on the neck in such a way that if the deceased had tried to get up most likely the head would have been cut off or injured."
He added there was something particularly strange about the burial also, with both the child and woman featuring a padlock inside their coffin. He added it could signify a "closing of a stage and the impossibility of returning".
Professor Polinski said: "This is a cemetery for rejected people, who were certainly feared after death, and perhaps also during life… who were suspected of having contacts with unclean forces, people who also behaved differently in some way.
"These are people who, if it was done intentionally, were afraid of… contact with these people because they might bite, drink blood."
For the latest breaking news and stories from across the globe from the Daily Star, sign up for our newsletter by clicking here.
Source: Read Full Article