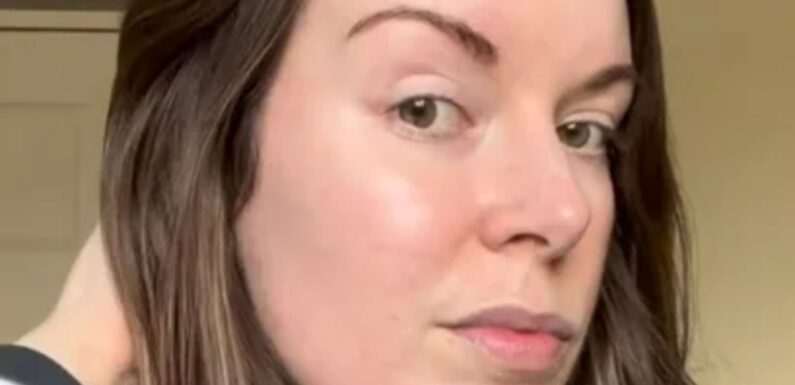 A WOMAN has revealed that she is 36-years-old and is ageing backwards.
Beauty and skincare fan Debbie explained that trolls claim she's had Botox but her glowy skin is all thanks to her five skincare secrets, including a £9.99 buy that she swears by.
So if you want more youthful-looking skin, you'll need to pay attention.
Showing off her skin transformation on social media, Debbie said: "I posted my skin transformation from 30 to 36 and people thought I'd had Botox.
"So here are the products that helped make people think that.
"Cleansers were important to me – I found the right cleansers for me. Balms are my favorite.
Read more beauty stories
I'm a mega catfish & I make myself look younger in seconds with my free hack
I'm a middle-aged beauty pro – my secret make-up tip takes 10 years off my face
"I found eye creams that really worked for my skin. Love them. 
"Prescription treatments like Skin + Me, amazing.
"These repairing products for dehydration.
"And finally, SPF every day."
Most read in Fabulous
'Furious' Beckhams' friendship with Harry & Meghan 'over' after leaking accusation
Love Island Rich List 2023 reveals star earning the most – and it's NOT Molly-Mae
My hubby bought me a house for giving birth – there's no way I'd do it for free
Harry's High Court case was 'pulled apart in humiliating fashion' says source
Debbie later listed the products that she swears by for youthful-looking skin, as she noted: "Some of the products that have clearly helped my skin if people think I've had Botox, which for the billionth time, I haven't."
When it comes to cleansing products, Debbie swears by the Naturium Ginseng Cleansing Balm, which is £21, the Inkey List Oat Cleansing Balm which is only £9.99 and the Cetaphil Gentle Skin cleanser which is £10.
For exfoliating products, Debbie recommends the Paula's Choice Skin Perfecting 2% BHA Liquid Exfoliant, which is £34.
In terms of eye creams, Debbie has a variety of favourites, including the CeraVe Eye Repair Cream for £14, the First Aid Beauty Hydrating Eye Cream for £26, the B. by Superdrug Brightening Eye Cream which is £13.99 and the Charlotte Tilbury Cryo-Recovery Eye Serum which comes in at £47.
She also recommends using personalised and repair products, and the ones that she loves are Skin + Me Daily Doser Monthly Subscription, the REN Clean Skincare Evercalm Redness Relief Serum which is £48, the Ren Overnight Recovery Balm which comes in at £45, the La Roche-Posay Cicaplast Balm B5 Multi-Purpose Repairing Balm which is just £10 and the luxury Murad Skincare Revitalisier Recovery Serum, which will set you back £84.
And finally, In terms of SPF products, Debbie swore by the Garnier Ambre Solaire Ultra-Light Sensitive Sun Protection Face Fluid SPF50+ which is only £12 and the ALTRUISTSUN Dermatologist Face Fluid SPF50 which will cost you only £9.85.
In another clip, Debbie shared the difference in her skin at the age of 30, when she didn't use skincare, compared to the age of 36, after learning to use skincare products effectively. 
At age 30, Debbie's skin was extremely dehydrated, textured and dry, with a damaged skin barrier.
However, by the age of 36, she had clear, glowy skin, showing a major difference since starting her skincare routine. 
Debbie said: "Thought I would look back at a pic from six years ago before I started learning about skincare and I was a little shocked at the difference in my skin!
"Now I know more about my skin and the skincare that works for me, I have definitely seen a difference. And it doesn't have to be complicated."
Debbie's TikTok clip, which was shared under the username @beautyglowgirl, has clearly left many open-mouthed, as it has quickly gone viral and has amassed a staggering 1.7 million views.
Social media users were stunned at Debbie's glowing skin and many were eager to complement her in the comments. 
One person said: "At 30 you looked like my mom and she's 44. Now you look glowy young and fresh."
Another added: "Skin is SKINNING."
Read More on The Sun
Sky customers warned of 3 big holiday mistakes – they could cost you loads
Mum shares kitchen roll hack but trolls are left in hysterics over her method
A third commented: "You're glowing."
Fabulous will pay for your exclusive stories. Just email: fab[email protected] and pop EXCLUSIVE in the subject line.

Source: Read Full Article