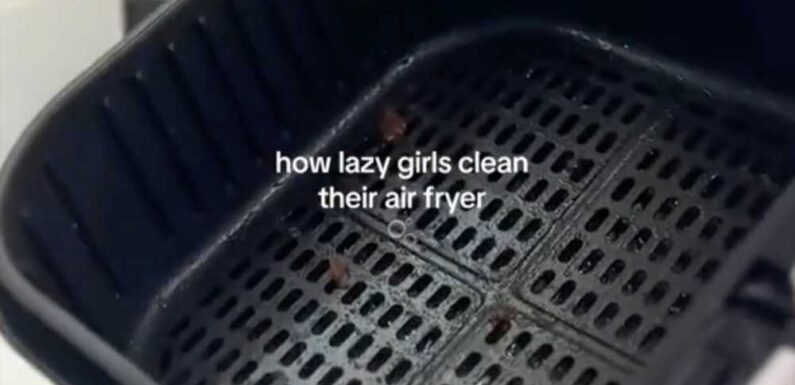 AIR fryers might be one of the best kitchen inventions of the last few years – but they can also be incredibly tough to clean.
Luckily, one woman has cottoned onto this and perfected her 'lazy girl cleaning method' that she says has become life-changing.
Not only does her simple two-step guide leave the appliance sparkling clean, but it also doesn't involve any scrubbing.
And Roo said she wasn't going to gate keep, as she shared her cleaning hack on social media for all to follow.
In a video shared to her TikTok account @rooshome, she introduced "a true story of how I cleaned my air fryer."
The TikToker then showed the tray of her stylish white air fryer and how it had fat and leftover pieces of food in the bottom.
Read More in Cleaning
I'm a cleaning expert – the 55p product you can use to clean your WHOLE home
Cleaning whizz reveals 29p trick that gets clothes wrinkle free WITHOUT an iron
But instead of taking a sponge, brush or scourer, Roo reached for another of her kitchen staples – a dishwasher tablet.
She showed how she popped it inside and then boiled the kettle with just the right amount of water to fill it up to the brim.
Roo then said the next – and most important – part of her lazy girl method was to "leave it, go out and live your life."
Once the tablet had worked its magic on the stubborn grime, Roo showed how she emptied the dirty water, gave it a quick rinse and then left it to dry.
Most read in Fabulous
Airline's Jane Boulton lifts the lid on Luton's worst ever customers
I'm a gypsy and here's 14 things I hate…girls, please wear falsies for a start
The 30p trick to make your loo smell amazing & perfect if you live with boys
I had Victoria Beckham's 'most painful' anti ageing facial involving 24 needles
She also quipped that she'd "return to it three business days later", before singing the praises of her method. 
She added: "Dishwasher tablet hits different."
Roo's 354.2k followers certainly seemed sold on the idea, as they said they'd be trying it out as soon as possible. 
The video racked up 43.2k likes and counting, as many took the time to comment.
One person wrote: "This is life changing omg." 
A second said: "Exactly how I do mine." 
While a third added: "Great tip". And a fourth typed: "Thank you for this."
Meanwhile, others decided to share their own cleaning routines for their air fryers.
Another social media user suggested: "My grill grate comes out, dishwasher gets it perfect every time – soak the other part overnight then sponge wash and it's done." 
Read More on The Sun
Love Island shock as couple has already left the villa after brutal public vote
Urgent warning for millions who could face big penalty if they don't act now
As a second explained: "I just throw mine in the dishwasher. I'm glad I got one I could do that with!"
Fabulous will pay for your exclusive stories. Just email: fab[email protected] and pop EXCLUSIVE in the subject line

Source: Read Full Article