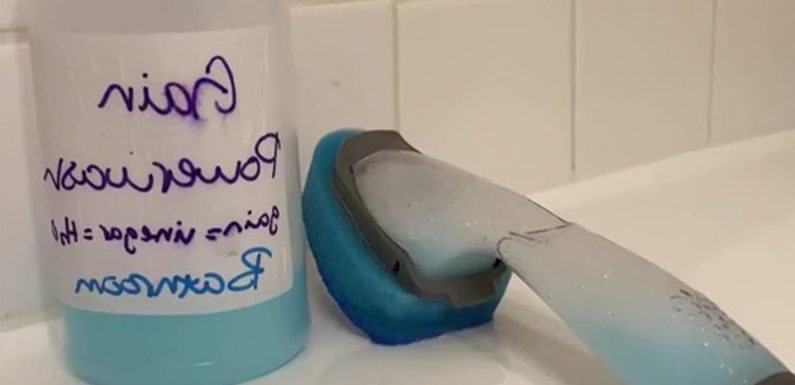 A CLEANING hack queen has shared her essential tip for maintaining a spotless bathroom.
Jordan (@ADHDWhileBlack) has more than 88,000 followers on TikTok where she creates content about her daily life with Attention-deficit/hyperactivity disorder.
In one of her videos, Jordan announced that she is going to start a new series on her account about things she learned from TikTok that help with her ADHD.
One of the first things she learned was a hack that she said is the main reason that kept her bathtub "remotely clean."
"Get a little cheap refillable scrub brush from the dollar store, fill it up with homemade Dawn power wash, which is just Dawn, vinegar, and water," she said.
Jordan added that she uses Gain instead of Dawn because it's a bit more inexpensive.
"Then scrub while you're in the shower, it's that simple."
However, Jordan admitted that she's not on top of her cleaning 100 percent of the time.
"But it gets done more than it did before."
Her video received thousands of comments from viewers who couldn't wait to try the hack.
Most read in Lifestyle
Moment greyhound handler is punched and kicked by racecourse 'invader'
BBC Breakfast's Sally fights back tears over death of 'brilliant' co-star
Susanna Reid leaves studio to console missing star's mum as she sobs on GMB
I'm a 37-year-old mum and hate wearing a bra – I don't care, judge away
"Yessss I love this method because I know it's not gonna hurt my skin so I can do it while I condition my hair," wrote one person. 
"Yes!!! Habit stacking for life!" wrote another.
Others weren't so keen on trying the hack.
"My crazy brain won't let me clean a tub then touch my face and body," wrote one person.
Another said they were worried that they would "hyperfocus on it and suddenly I'm out of hot water with conditioner in my hair."

Source: Read Full Article