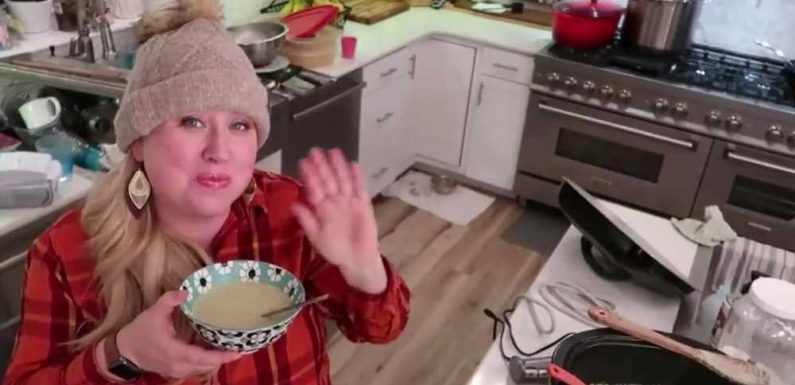 IF you thought preparing dinner for your kids was hard, spare a thought for mum-of-nine Jamerrill Stewart.
The American YouTube star has inspired fellow parents with her latest mega-sized recipes including chicken alfredo with all the trimmings and broccoli soup with vegetables from last spring.
Jamerrill has amassed over 300,000 subscribers, who tune in to watch her antics and foodie fun online. 
Her family is so big, she's even got her own 'grocery store' in her basement which features shelves and shelves of canned food, toiletries, fruit and vegetables. 
In a recent 30-minute video, Jamerrill gives us an insight into batch cooking for her enormous family. 
She addresses her fans: "Welcome back today friends. I'm going to show you what I feed my family of 11 for the week. Let's get cooking." 
Read more on family meals
I'm a savvy mum – how I make 24 meals for my family of four for just £20
I'm an air fryer expert – the best one to buy depending on your needs
Jamerrill's enormous kitchen features an industrial-sized stainless steel sink and huge counters topped with tupperware boxes. 
First comes bulk-made breakfast – two big tubs filled with fruit or sugar-sweetened oatmeal, along with jars of apple sauce as a topper. 
"We need to get this cleaned up and get dinner going in the slow cooker because we've got a lot going on today," she declares. 
Jamerrill approaches what looks like a mini oven with half a dozen closely packed shelves nestled behind its glass door.
Most read in Fabulous
Can you guess how old we are just by looking at our legs?
I've been a hairdresser for 17 years – the trendy shampoos I absolutely hate
I'm an arcade pro & there's a trick to always winning on the grabbing machines
I'm a 37-year-old mum and hate wearing a bra – I don't care, judge away
"I put some things in the freeze dryer yesterday. There's some leftover soup and a little bit of roast in there [to store and eat at a later date]."
Next, she shows off her 'home school lunch' on her kitchen counter – a plate full of cooked broccoli florets and a taco full of tuna. 
"The broccoli is leftover from Christmas. I bought it pre-cut in bags from Walmart because that's the kind of mum I am," she exclaims.
As dinnertime arrives, Jamerrill shows fans a stack of boxes filled with pre-prepared noodles (or spaghetti to us Brits) and a huge slow cooker filled with homemade chicken alfredo. 
Zooming in on her slow cooker, Jamerrill reveals enough homemade chicken alfredo to feed a restaurant.
"This was ten pounds of chicken in a bag from Walmart. Actually, it looked a little freezer burned when I took it out but that's ok because I'm not going to tell if you don't," she giggles, admitting her mistake.
Then she shares how to make her epic dish: "I put in two bricks of cream cheese and two bricks of butter, onion powder, garlic powder, salt and pepper that's just cooked all day.
I added a tablespoon of xanthan gum, too. 
"30 minutes before we eat I'll put a bag of frozen broccoli in there and by the time it's ready to eat it'll be cooked. At other times I'll mix steamed brown rice or cauliflower rice in.
It's all a one pot meal by the end and that's dinner.
"The other way I do it is to have all the components separate so the kids can have dinner their own way."
Jamerrill hauls a massive cooking pot to the sink to drain out the broccoli into an industrial-sized colander. 
She then pans across her worktop to show off a dinner spread featuring two massive bowls of broccoli, vegetables with dip, pasta, cauliflower rice and the chicken alfredo. 
Next, she shows us how to make her favourite broccoli and cheddar soup in the slow cooker. 
Having gone down to her basement 'shop' with a tote bag, she produces freeze bags full of broccoli, some onions and four massive cartons of chicken broth. 
"I got that broccoli last spring and we're still getting through it," she confesses. 
Jamerrill peels and chops two onions. She empties the frozen broccoli into the slow cooker and pours in all four cartons of chicken broth. 
She adds 8oz of cream cheese, the chopped onion, a block of butter and generous handfuls of grated cheese. 
She seasons with salt and pepper, garlic and onion powder, stirs and pops on the lid to let cooking commence. 
Read More on The Sun
My daughter chooses her bedtime – she's labelled 'spoilt' but she's behaved
EastEnders star returns to normal job a year after leaving the Square
Hours later, she lifts the lid to reveal the bubbling result. 
"It's been several hours and this is what our soup looks like," she smiles, serving herself a bowl with some grated cheese on top and giving the camera an enthusiastic thumbs up. 

Source: Read Full Article