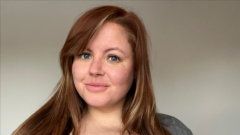 A HOT mum told how she stopped wearing a bra during lockdown and has fallen out of the habit.
Rosie has a natural 36J bust and has declared herself a proud member of the No Bra Club.
During the pandemic there was no need to stick underwear on because she wasn't going anywhere.
And now she hates going out with one on because it feels so uncomfy.
She said: "I rarely wear an underwire bra at all now. I don't think it is healthy to have your boobs restricted all the time.
"I know some women wear a bra to bed, which is just absurd. You need to let the boobs go free.
"It's a lovely free feeling not wearing one."
But Rosie, 37, admitted that there have been some unfortunate mishaps that have come about as a result of her not wearing a bra.
She said: "If I have a long drive I'll usually go braless. 
"This one time in the car I didn't realise one of my boobs had popped out as I was driving along the motorway."
Most read in Fabulous
Martin Lewis issues warning to millions of Brits with savings or cash ISAs
Paul O'Grady's final gift revealed as fans break down in tears over star
Meghan Markle hires Kim Kardashian's elite ex-bodyguard to protect her
BBC axe huge cooking show as Britain 'falls out of love with food'
Rosie, from Hampshire, revealed she has to do a fair bit of planning around what she's going to wear, depending on what she's doing.
And she confessed she sometimes has to stick on a sports bra to accommodate her big bust.
Rosie added: "It is a must if I'm riding, cycling or even walking the dog. I hate them swinging if I'm exercising.
"But as soon as I'm home I'm braless. If I'm popping to the shops I don't bother anymore."
Rosie said she's also forced to take additional security measures to keep her sports tops in place. And that can also lead to mishaps if she forgets to do it.
She added: "If I'm wearing my really tight sports bra I have to put a safety pin at the top of the zip. 
"I once forgot and was zooming into the shops enroute to ride. The zip just flew open and the boobs popped out."
Rosie revealed she's always been busty and is used to people looking and making comments.
But she told how she's been putting up with it so long that it barely registers with her anymore.
Read More on The Sun
I found my dream council home on Facebook – I did all the work myself
I'm a travel expert – here's why you should always get on a plane LAST
She said: "If I'm wearing a crossbody bag the strap will always sit in between my boobs. So I can always see men staring. They aren't very good at doing that slyly . 
"But I'm so used to that, and even women making comments, that I barely notice."
Source: Read Full Article