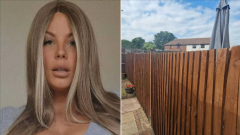 A HOT mum has told how she's considering building a 20ft fence in her garden – so she can sunbathe topless in peace.
As soon as the sun starts shining Kayleigh admitted that she loves stripping off to soak up the sunshine.
But the 34-year-old, who has 34KK natural boobs, reckons this attracts a fair bit of attention, and she's even caught her neighbours spying on her.
Kayleigh, who sets pulses racing on Instagram and TikTok, said: "As soon as that sun comes out I'm in the garden topless quicker than you can light your BBQ.
"I'd say four days out of five I'm out lapping up the sun.
"I see the blinds and curtains twitching and I'm sure some of the neighbours fancy me while others are appalled by me. I can feel a wandering eye coming over the fence.
Read more in Fabulous
Boris loses as Lords vote to give EU citizens proof of right to remain
"I find it a breach of privacy really. People should mind their own business and stop being on neighbourhood boob watch."
Kayleigh already has a decent sized wooden fence but she reckons that's not enough to keep out prying eyes.
If she can get away with it she's going to go even bigger so she can get her boobs out for as long as she wants.
She said: "It's in my plans for this summer. I'd go 20ft high if that was allowed.
Most read in Fabulous
Piers Morgan takes huge swipe at Prince Harry's 'privacy campaign'
Corrie star confirms soap exit and reveals she's already filmed final scenes
Five inconsistencies in Prince Harry's testimony after High Court grilling
Awkward moment fans think Ruth Langsford brutally 'snubbed' Holly
"Nothing is too drastic when it comes to me being able to do some topless sunbathing without any interruptions. All I want to do is make the most of this amazing weather and top up my tan."
We told how Kayleigh, from Dunstable, Bedfordshire, is a proud member of the No Bra Club.
She hates wearing the restrictive underwear and even goes on the school run without one on.
The full-time content creator is so used to being stared at that it doesn't even register with her anymore.
And the same goes for folk having a sneaky look when she's sunbathing topless.
She even confessed that the more haters who make a fuss, the more she'll be outside.
Kayleigh said: "The more people that watch me and are offended the more I'll do it.
"I'm in my own home and garden. If they decide to watch me then that's their problem, not mine.
"I don't care what nosy neighbours think of me – but a big privacy fence will be a good investment."
Source: Read Full Article