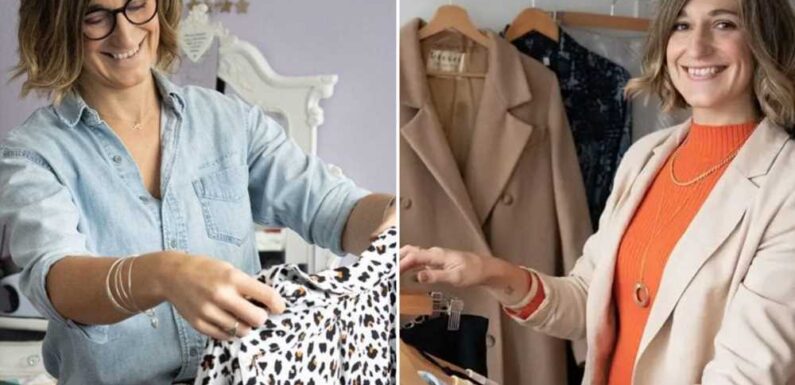 EVERYONE wants to look stylish, but with the pace of fast fashion it can seem like there's a new trend everyday.
Most of us don't have the funds to constantly update our wardrobe but should that mean you sacrifice looking fashionable?
Not according to one personal stylist.
Alice Nichol is a Dorset based personal stylist who helps her clients find their chic style on a budget.
Speaking exclusively to Fabulous the fashion pro explained how she started her career with top brands and now shares her knowledge with others.
She said: "I like helping women discover their own unique style and grow their confidence through their wardrobes in an easy and sustainable way."
Read more in fashion
I'm midsize & wearing a bikini for the first time at 27 after shedding 8st
Fashion fan thought she found the perfect dress but it can't contain her huge boobs
Alice says she started her career as a visual merchandiser after getting a Fashion and Marketing degree. 
She said: "I started my career working for brands including French Connection and Zara, planning and designing shop floor layouts and window displays."
"Joining the corporate wheel, I worked for global brand Ralph Lauren in offices across London and Europe. I became well versed in needing a versatile wardrobe that suited my many different roles."
After having her second child Alice realised she didn't recognise herself and she used fashion to find her new style. 
Most read in Fabulous
I'm an idiot with love but won't give up search for 'the one', says Sue
Prince Harry admits to calling Diana's butler Paul Burrell a 'two-faced s***'
Princess Kate shows off her skills on the pitch as she joins rugby legends
I love sunbathing topless but nosy neighbours spy on me, I need a 20ft fence
"After my second child was born, aka 'Buddy', I hit a low confidence. I became very familiar with that feeling of looking in your wardrobe, feeling completely uninspired and having the sense that your lost identity is there, but not necessarily having an endless budget, know-how or even the energy to do anything about it!"
"Now I have combined this with my own experience to develop my ethos of Wardrobe Love."
FABULOUS BINGO: Get a £20 bonus & 30 free spins when you spend £10 today
And what exactly is Wardrobe Love?
Alice says: "The concept of taking the time to get to know ourselves, body shapes and style aspirations and exploring those identities through our existing wardrobes. How often we see someone in a great outfit and wish we could look like that."
"The likelihood is that an outfit combination or a slight variation of it may already be in our wardrobes, but we are so stuck in our rut we are unable to see it."
"That's where my passion really comes in, showing people what they can create from items already hanging in front of them. Believe me there is always some kind of fabulousness in there!"
Since it was her mum-bod that inspired her to find herself Alice decided to name the business after her kids. 
"Buddy and Noo is named after my other loves, my children (Buddy is my son Arthur and Noo is my daughter Nancy) a nod to an ideal I hope to grow for them and our future generations. Encouraging acceptance of ourselves, who we are, how to feel good in our style and show that in a sustainable way."
She explained: "Personal style for me does not just remain in our wardrobes, our homes are where we also show our personality and flair."
Alice's Top Styling Tips:
Get to know your body shape and the areas you don't want people to see – this way you can start to find clothes that hide these areas.  
Look at the pieces you love in your wardrobe and figure out why you love them – get to know the things that you are wearing
V neck's are the most flattering shaped top – mastering shapesand style is about being a magician and drawing the eye print to somewhere you don't want it to look
Invest in good basic pieces, jeans that fit properly, play around with the length of your denim and get a blazer in a neutral colour
Play with stripes – they are a great distraction – vertical stripes will always be more slimming and flattering
Black is slimming but it will usually drain your face, wear colour next to your face like jewellery or lipstick, even a scarf – find colour that suits you 
Read more on The Sun
Our road is so full of pot holes I have to take pain killers after driving home
Home Bargains shoppers are rushing to buy 'brilliant' £20 summer essential
Alice's Charity Shopping tips:
A lot of people feel overwhelmed and don't know where to start in charity shops. They either organise by colour or size so start off in an area that you know 
Think about what you need and look for basics
Statement pieces are great to pick up, denim, footwear, accessories don't be afraid of the big baskets – there will always be gems in there 
Just because it's cheap doesn't mean that you need to buy it 
Look at labelling and materials and go for quality – Shein, Boohoo and Pretty Little Thing clothes are not made to last
Always check the fabric and check your garment is well lined

Source: Read Full Article