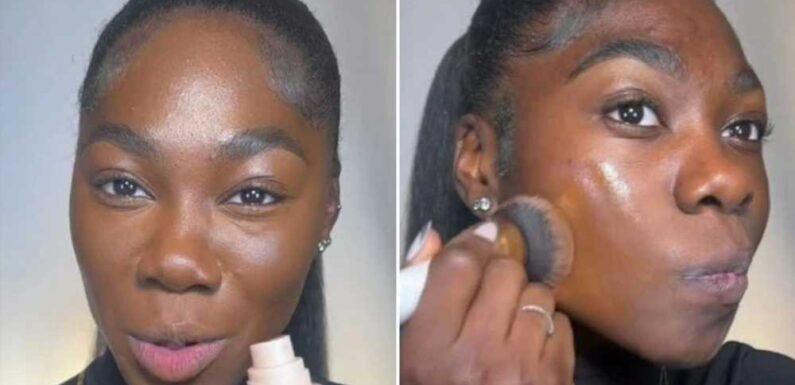 A MAKE-UP artist has revealed the eleven habits she has when doing her make-up that create a flawless face. 
And the best bit is that all of Aisha's tips are free. 
The content creator, who posts under @itsurgrlaisha on TikTok, gave her viewers a full rundown of simple things she does to her make-up that make a world of difference. 
The video was centered around applying products in an unconventional order or method to make them work harder – such as setting your smile lines before foundation.
Aisha's first tip was to do your eyebrows before make-up AND skincare.
The next was to do a proper skincare routine before applying make-up, with Aisha recommending the viral Bobbi Brown Vitamin Enriched Face Base.
read more on make-up hacks
I'm a make-up artist – stop spritzing your setting spray directly onto your face
Woman fixes her resting b**ch face in seconds with an easy make-up hack
Her third tip was something most people wouldn't ever think of doing.
She recommended setting your smile lines with powder before applying your foundation.
Aisha explained: "I like to ensure that I've set my smile lines because I'm a very smiley person.
"It's the only part of my face that tends to crease, so I always do this without fail."
Most read in Fabulous
Inside Prince Harry's whistlestop coronation visit to UK
Unseen footage of young Meghan emerges ahead of bombshell TV interview
My sister Meghan's marriage to Harry is toxic, says Samantha Markle
People are just discovering the £1 hack to transform their kitchen cupboards
Her fourth tip was to put foundation on the back of your hand "rather than directly onto your face".
Aisha continued: "I feel as though I learnt this the hard way… applying way too much foundation to my face than needed.
"Maybe doing half of my face and then realising that I'd put on way too much."
She also recommended using less concealer as her fifth tip, and her sixth was "blending in between layers". 
This means making sure all your cream products are blended thoroughly one-at-a-time and before you apply powder products.
Aisha said: "Number seven is using setting spray before applying powders.
"Number eight is skipping contour and just powder bronzing."
"I feel like it adds warmth and dimension to my face in the way that contour doesn't.
"So I absolutely love doing this."
Her ninth tip was to apply blush with a brush to get it on your face in a more precise manner. 
Aisha's tenth tip was to curl her lashes before applying mascara. 
She concluded: "Number 11 is incorporating black eyeliner as part of my lip combo.
"If you are a darker skin girl and haven't tried using black eyeliner as part of your lip combo routine, what are you doing?
"In my opinion, it just makes your lip combo pop."
Source: Read Full Article