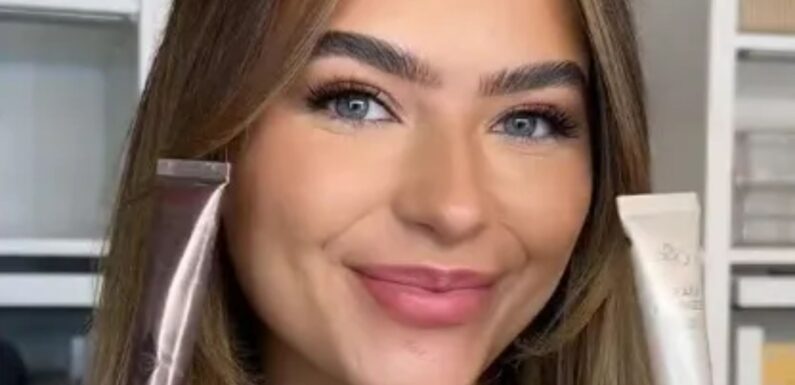 WHEN it comes to makeup, it can be all too easy to fork out a small fortune on high-end products.
But with so many dupes available on the market, one makeup whizz has set out to determine whether they're actually any good by putting Primark's Charlotte Tilbury contour replica to the test – and the results may just surprise you.
With both products, in shade medium, to hand, the makeup up pro named Elle applies the luxury label to one half of her face, and the high-street store's replica to the other so that a true comparison can be made.
"Hey bestiessss – I've had this Primark contour doop for a while so thought I'd try it against the real thing! Which side wins???" she asks, in the clip shared to TikTok (@ellejamesmakeup).
And the finished look is surprising, with both sides looking almost identical.
However, there is one major difference -the price tag.
READ MORE ON BEAUTY
TURN BACK TIME
I swear by a 20p trick to banish wrinkles & it works with your foundation
SKINTERVENTION
5 items to snap up from TkMaxx & a cult favourite that will dry you out
While Charlotte Tilbury's high-end product retails at £30, Primark's dupe is priced at just £4.50, meaning it's a whopping £25.50 cheaper.
"They look the same don't they!" she says.
Elle then leaves the verdict up to her social media users to decide and asks: "Battle of the contour wands, which side do you prefer?"
And it's fair to say that people were left very divided, with the high-street version proving very popular considering its super affordable price tag.
Most read in Fabulous
GET HOT & STREAMY
The top 8 sexy shows on telly this autumn – including a 'new Bridgerton'
NOT BED
I'm a mum-of-6 & sleep in the living room – I'm depending on the council to help
DOWN UNDER
I'm a gynaecologist – I don't care about hair, but people do something hilarious
Back off
I'm building my dream home but trolls house-shame me about it every day
FABULOUS VEGAS: JOIN TO CLAIM £100 BONUS PLUS 50 FREE SPINS
"Blended out they honestly look the same," noted one.
Elle replied: "I think the same!! I do think CT blended better though."
A second penned: "Not much in it."
Elle responded: "There's not is there! But the price."
A third argued: "CT winnssss always."
Meanwhile, a fourth agreed: "CT looks better."
Elsewhere, others were adamant they preferred the dupe version from Primark.
"Prefer Primark tbh," wrote one.
Read More on The Sun
Gleam queen
I love my new Turkey teeth but trolls say they're the worstthey've ever seen
FLAMIN-GO
Exotic island yet to become popular with Brits – with amazing weather & flamingos
A second noted: "You've just saved me £25."
Another pointed out: "Primark looks more natural."
Source: Read Full Article