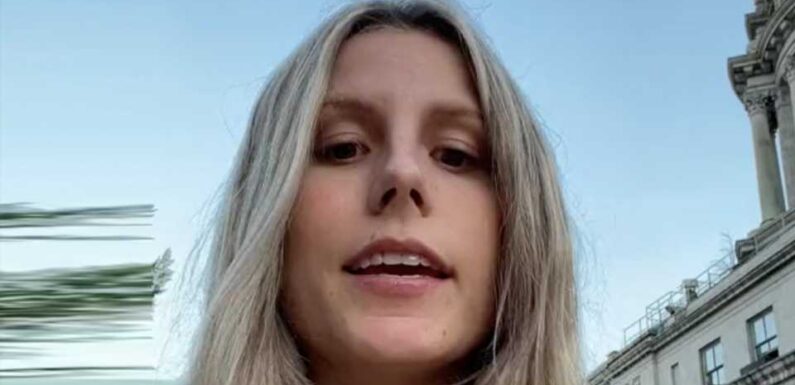 A STYLISH singleton has warned others to research their date before agreeing to meet up after her shocking experience.
She explained why her opinion of a handsome man whom she went for dinner with changed after she looked him up on social media.
Madi (@immadeleine) is a NYC-based fashion photographer with almost 4,000 followers on TikTok.
She took to the social media platform to share a horrific dating experience that left her feeling creeped out.
She said: "Here's why you should always look up the guy you're going on a date with before you go on the date.
"One time I was out with my friends and I saw this guy who was really cute looking at me.
"He ended up coming up to me and he asked me to go to dinner. 
"We go to this great dinner and he's asking me a ton of like get to know you questions.
"He asked me what my job is. I'm a photographer and he's like 'oh wow that's so cool' and asked to see my work etc.
"As the dinner went on he started to ask me more questions that I felt like he already knew the answer to.
Most read in Lifestyle
AD SLAM
M&S REMOVES Xmas ad post & apologises for 'unintentional hurt' – but star hits back
CAR BLIMEY
Carabao Cup draw 'rigged' blast Newcastle fans after yet another nightmare tie
STORMING IN
Storm Ciarán winds leaves 'disaster zone' as 'golf ball' hailstones batter UK
LONG GONE
Walkers discontinues ANOTHER hugely popular crisp flavour & Brits are 'in tears'
"So I'm like maybe he just looked me up on Instagram before or whatever."
Madi decided to look for the man on social media when she got home from their date. 
She explained that she was on FaceTime with her best friend when she made a jaw-dropping discovery.
She said: "I found his Instagram and as soon as I saw the username my stomach sunk.
"I'm like I've seen this username before. I click on the messages. 
"He has messaged me like 45 times in the past five years, responding to stories about my photography, my friends, everything.
"He asked me questions like he didn't know the answers to them. 
"I don't know why he couldn't just tell me that he was following me before but I got super creeped out."
She captioned the post: "It's the dishonesty for me [red flag]."
The video went viral with over 411,000 views, 9,800 likes, and hundreds of comments. 
Some viewers defended the man and made the excuse that he was worried about how Madi would react if she knew he was following her online before the date. 
However, the majority agreed that he seemed creepy and agreed it's best to research people before meeting them for a date.
One person wrote: "I have a first date tonight and this was the first thing that popped up on my FYP [for you page] putting my detective cap on."
Another commented: "Ummm my initial thoughts are was he stalking you? Because what are the chances after 45ish messages that he just happened upon you in public…"
A third chimed in: "Absolutely, this is for guys too. Look people up, it's $1 to get a criminal record online."
A fourth said: "It speaks for lack of knowledge that some guys in the comment sections don't know how dangerous this behavior is."
Read More on The Sun
FOND FAREWELL
James Haskell kisses goodbye to mystery blonde after marriage split
FIREWORK HORROR
My son, 17, lost an EYE when firework at club's display exploded in crowd
Another added: "One time I looked someone up that I was gonna meet from an app.
"Found out they were arrested for stealing $10k worth of antique China from a neighbor [crying]."

Source: Read Full Article