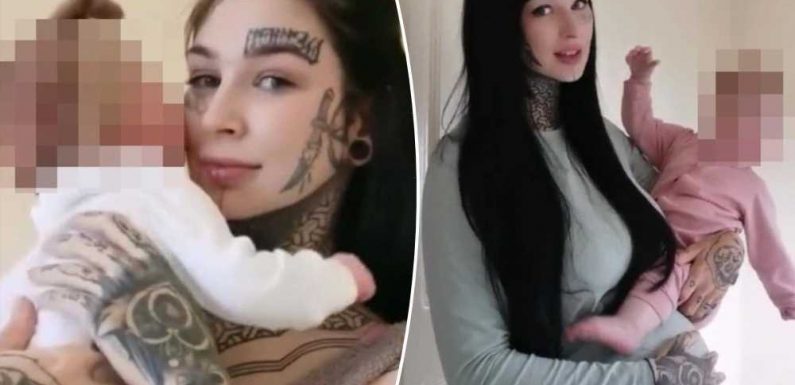 A MOTHER has revealed that she planned to have her children close in age, but left many open-mouthed when she realised she was pregnant just eight weeks after giving birth to her first child.
Known on social media as That Irish Twin Mum, the young woman is mother to Irish twins – a pair of siblings born less than 12 months apart. 
The mum-of-two has amassed an impressive 89k followers and 1.9million likes on TikTok, where she regularly shares clips giving an insight into her life. 
Her two daughters, Paisley Maeve and Tokyo Leuchia, were born just a year apart.
Her first child Paisley Maeve was born in December 2021 and then Tokyo Leuchia arrived twelve months later in December 2022. 
The mum-of-two shared a video to the social media app with the caption 'And that's on Irish twins 😅'
Read more real life stories
I regret my baby's name…my man picked it but it's cringe & no-one says it right
I'm only four weeks pregnant but I've already got a big bump…many say it's twins
She confirmed: "And yes, they were both planned)".
She said: "Telling my friends and family that I'm pregnant two months after giving birth." 
She held a piece of paper in her hand and paired her video with an audio that said: "You're joking. Not another one?!" 
The woman's video has clearly made many chuckle and has quickly gained 23.6k views.
Most read in Fabulous
The Radfords jet off on their biggest trip EVER and face life-changing decision
I had two sets of twins but wanted another baby – I was so stunned at my scan
You have the eyes of a hawk if you can spot the hidden owl in just four seconds
My mum made us both take a pregnancy test for a laugh – but we were left stunned
It has 1,152 likes, 30 comments and 14 shares.
Many parents were shocked at the woman's story and were eager to express this in the comments. 
One person said: "My girl is 7 months and I couldn't imagine having another. You're amazing!" 
Another added: "Soon you'll be nicknamed the factory 😉" to which the mum-of-two confirmed "we're definitely stopping for a few years after this one 😂😂 I've been pregnant for more time than I haven't since I met him 😅😅" 
A third commented: "I commend anyone who can do this and not just for the parenting side of things but also, after giving birth.. stay away from me 🤣🤣😭😭" 
Whilst someone else noted: "I cannot imagine the tiredness 😂" 
Meanwhile, many other parents revealed that they too have children with a small age gap.
One mother claimed: "We found just days after my daughters 1st I was pregnant again. celebrated her 2nd birthday with a 3 month old 🥰🥰"
Read More on The Sun
I'm a food whizz & you've been making rice wrong – my way is so simple
Love Island's Shannon Singh goes braless in tight top & figure-hugging jeans
A second posted: "At least they'll be friends my daughters are only 18 month apart 😂"
A third admitted: "Mine are now 2 and 1. I look like a par chewed werthers original, but you go off! 😂" 
Source: Read Full Article