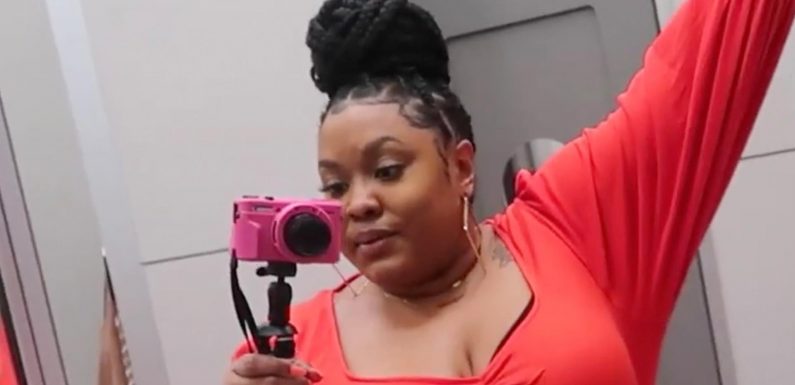 A PLUS-SIZE influencer shared her thoughts on Target's plus-size options
YouTuber Lex The Curvista tried on various items in the store, including a red dress that she planned to wear for Valentine's Day.
The curvy creator explained that she was trying out different stores to see how inclusive their sizing is.
"I am a firm believer that all stores should be size inclusive and give accessibility to all sizes when it comes to fashion," she explained.
For her first look, Lex modeled an orange satin long sleeve button down shirt, $30, and matching pants, $30.
"The material is nice but it's giving me frumpy. I don't need added layers. But it's really cute, the color is rich, and the fabric does not feel cheap," she told viewers.
The influencer also tried on a bright pink V-neck scuba shirt with balloon sleeves, $30, and a matching high-rise A-line skirt, $30.
She explained: "I like it but I think it's a little too chill for Valentine's Day unless you're going to catch a movie or something like that. This is cute to wear shopping."
Next, Lex shared her thoughts on a $30 black sleeveless satin dress.
"I feel like it's bringing a lot of attention to my mid-section, which after having the baby I'm a little insecure about. I don't like the fit on me, but the dress is cute," she said.
Most read in Lifestyle
Mum was 'on work call' when she vanished as family issue desperate plea
Millions urged to check for voucher as BBC One 'switch-off' approaches
Rookie cop suspended over 'fling' with top officer probed over drug boss affair
Boyfriend of schoolgirl, 15, fought to save her life after she was stabbed
Finally, the content creator showed her followers a $30 coral red long-sleeve wrap dress with balloon sleeves.
"I really like this dress. This is cute. I would definitely wear it for Valentine's Day. I think I might have a winner. Super cute," Lex concluded.
Lex's subscribers took to the comments section to share their thoughts on the Target items.
"Very honest haul Lex! I shop at Target frequently and sometimes struggle to find cute, not parachute plus-size clothes," wrote one viewer.
Another person said: "Absolutely love the pink, my favorite color."
"Love the satin outfit but Target needs to do better!" commented a third YouTube user.
Source: Read Full Article