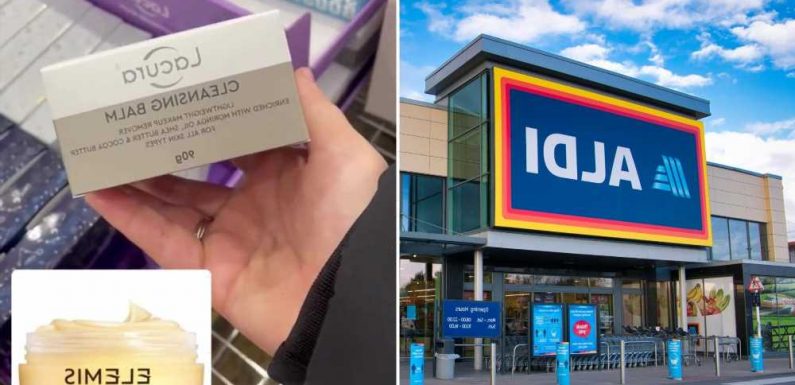 A SAVVY shopper and beauty fan has shared her top Aldi dupes for brands like Jo Malone, Elemis and more. 
Beauty fan Imzy said in a TikTok video online: "My Aldi dupe finds."
First Imzy says the Aldi Lacura Pink Clay Mask is as dupe for the Sand and Sky Australian Pink Clay Porefining Face Mask.
However the Aldi version is a lot cheaper at £5.99 compared to the pricey £34 Sand and Sky mask.
Aldi have their own version of the £12 Pixie Glow Tonic. The Lacura Healthy Glow Glycolic Toner is just £2.99.
The Wishful Yo Glow AHA & BHA Facial Enzyme Scrub is £25.50 online but Aldi have a cheaper version called the Lacura Microdermabrasion Scrub and it's only £3.99.
Read more bargain finds
I'm a savvy shopper – run to TK Maxx to get their latest beautybargains
I'm a beauty fan and these are my ultimate Primark makeup dupe must haves
Aldi have duped the £55 Jo Malone Pomegranate Noir candle with the Hotel Collection Pomegranate Glass Candle at £3.49.
They also have a dupe for the £110 Jo Malone Lime Basil and Mandarin Cologne cologne at £6.99 it's called Hotel Collection Lime, Basil and Mandarin Eau De Parfum.
If you're looking for makeup Aldi's Naturals intense dupes the Naked Urban Decay Honey Eyeshadow Pallet because why spend £49 when you can spend just £5.
Aldi have duped Glossiers Super Bounce Hyaluronic Acid + Vitamin B5 Serum, £24 and Super Glow Vitamin C + Magnesium Serum, £24
Most read in Fabulous
Carol Vorderman leads the way at Cheltenham in a corset & leather skirt
Family slammed after pic of trip to beauty spot goes viral – can you tell why?
Shoppers run to Superdrug to buy cream they say is like 'Botox in a bottle'
I never wear a bra – OAPs tut but I swear my boobs look better than ever
At 86 per cent cheaper than leading brands such as Glossier, Lacura's Super Booster range of serums are designed to deliver key ingredients to your skin.
The Sanctuary Spa Signature Collection Luxury Bath Float is usually priced at £13. 
FABULOUS BINGO: Get a £20 bonus & 30 free spins when you spend £10 today
Aldi's Lacura Spa Luxury Bath Float is £2.19 and looks identical.
If you have been meaning to get your hands on the Eclat Skin London Hyaluronic Acid + Collagen Hydrogel Eye pads save you £17.99 and get Aldi's Lacura £5 Self heating eye masks. 
The masks are infused with Jasmine and Chamomile to help you sleep.  
Elemis didn't escape Aldi dupes as their £48 Pro Collagen Cleansing Balm has been duped by the Lacura Cleansing Balm selling at a much more affordable price of £6.99.
Aldi has their own version of the £45 Laura Mercier Ambre Vanilla Honey Bath it's £39 cheaper at just £5.99 and it's called the Lacura Vanilla Honey Golden Bath Nectar.
Imzy's video gained over 352,000 views and viewers were raving about the Alid dupes. 
Read More on The Sun
The Spanish hotspot which is 20C and has 88p beers
Nando's has made a major change to menus – and fans won't be happy
One user said: "My Aldi doesn't have any in stock. You are lucky."
Another said: "I use the Aldi Lacura products and my skin has never been so soft and glowing. I use their collagen powder and it's amazing. Highly recommend."

Source: Read Full Article