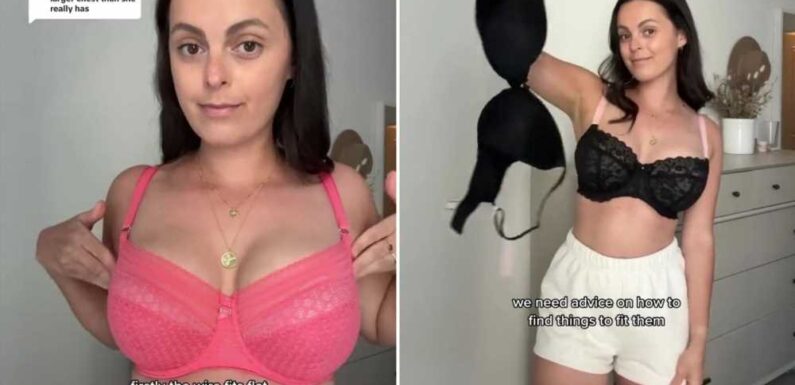 A BIG busted woman is hitting back at trolls who claim she is lying about her bust size.
The fashion fan who is UK 28GG and US 28J size, shares tons of shopping hauls and fashion reviews to show how different outfits look on her larger chest.
Jennifer Warnes, took to TikTok in response to a social media user who commented: "She's not a J cup. Just want attention by claiming to have a larger chest than she really has."
She said: "Am I really a J cup or am I just doing it for attention? I'll let you decide that."
Jennifer decided to show viewers her bra label to prove she was a UK 28GG. 
She said: "Here's a new bra I've just got. We can see the tag is US 28J right there."
Jennifer also tried on the bra to show her viewers how she knew it was the right size. 
"So let try it on together and see what we're working with" 
A bra with the right cup size will hold all of your breast tissue. 
"So firstly the wire sits flat around my chest and surrounds my tissue."
Most read in Fabulous
I'm a gym girl who works out completely topless – I beg people to be nice
I hated my bog-standard patio so transformed it for £50 & it looks great
I'm a gym girl who goes topless so everyone sees my bra – I used to try & hide
Important reason why mums are tying ribbons to their bags and buggies
"If I'm being totally honest I actually think the cups maybe a little bit small on this one but their not digging into too much. The bands sits nice and firm and it doesn't come to far off my body."
Jennifer explained people were so used to being sized wrong they sometimes don't know what a well fitting bra looks like. 
FABULOUS BINGO: Get a £20 bonus & 30 free spins when you spend £10 today
"The reason why you think I might be lying is because we are so used to the being put in the wrong bra size. We just have no perception of what the correct size actually looks like."
Jennifer also showed viewer what wearing the wrong size looks like.
"But if we look a little closer we can see that the wire completely floats off my chest in this one, so I would be readjusting throughout the day because it is not secure to my body."
"It actually pokes into my tissue and the bad rides up my back which is not good. See how much it pulls off my body there that's not gonna give you any support."
"Compared to the 28J in which we can see the wire sits flat against my chest, my cups are contained. The band runs parallel across my back to give me the support I need."
However Jennifer says she is making her video for attention, so she can help women who have a bigger cup size but small band size. 
"But you're wrong about one thing. I am doing it for attention. I'm doing for attention of other small band, large cup girlies who need advice on how to find things to fit them."
Jennifer's video gained over 130,000 views and her followers praised her for her honesty and useful content. 
Read More on The Sun
I don't pay any rent thanks to my renovated Ford Transit van – here's the best bit
80,000 families missing out on more than £1,000 in free cash – how to claim
One user said: "You go girl! People have been brainwashed to think there's no size above DDD."
Another user said: "People don't seem to understand that band size is also part of the bra size. A 38 J would look completely different and larger."

Source: Read Full Article