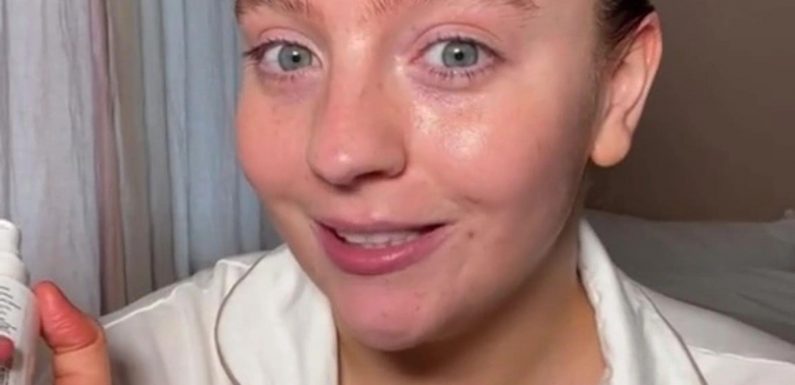 WITH so many people spouting their beauty beliefs online, it's hard to know what's right and what's really, really wrong. 
Luckily one beauty pro has taken to TikTok to debunk a load of skincare myths – and is calling for her followers to make one major change to their routine. 
Bambi, known online as @bambidoesbeauty, regularly shares beauty and skincare tips with her 85,000 followers on TikTok. 
In a new video, she shares five tips she wishes she knew when she was younger – and is calling for her followers to stop washing their face in the shower.
"Things I wish I knew in my twenties, skincare edition. 
"Stop cleansing your face in the shower. 
MORE BEAUTY NEWS
I'm a beauty pro and you've been putting your make-up on all wrong
I've found the best dupe for Elemis Cleansing Balm -and it's actually better
"Not only is the water too hot, you're just not cleansing properly and it's going to sensitize and dry out your skin. 
"You've not got early onset wrinkles, your skin is just dehydrated. 
"Stop taking your heavy moisturisers up to the eye area because you are prone to milia. 
"Use a light, textured eye cream. The trick here is to use less than you think you need to apply. 
Most read in Fabulous
William smiles with Kate & King Charles has a laugh as royals return to work
Harry won't be welcome at Coronation as royals fear 'ending up in paperback'
I'm a mum & I paid off £28k of debt in eight months thanks to these simple steps
Kate seen for first time since details of clashes with Meghan were revealed
"All those layers and those steps in your skincare routine are causing your pilling. 
"There are so many ways to prevent pilling, but this is the easiest one. Wait one minute in between each layer of skincare." 
Fans loved the beauty pro's tips, with the video gaining more than 12,000 likes and 110,000 views. 
Although not all agreed with her advice, with one follower writing: "4 most people, washing their face in the shower is the only way they'll do it. better than not at all right? just turn the water cooler when you wash."
Another said: "I can't stop cleansing in the shower."
She's not the only one sharing skincare secrets online – Taylor's encouraging her followers to try taping their faces at night to avoid creases and wrinkles. 
In a new TikTok video, the content creator said: "So reason being why I tape my face is because at night when you're sleeping when you're laying on your pillow, these compression marks happen on your face. 
"This is not proven facts. This is just me going on what I've seen on TikTok, and people's results that they're getting. 
"Along with the fact that I did a bit of research about taping, and people seem to be loving it.
Read More on The Sun
Woman left looking like an egg after botched Botox goes horribly wrong
Love Island winners rich list shows who's made most & there's a clear trend
"And I actually do love it. I do feel like it works for me, but it might not work for everybody." 
The skincare hack attracted plenty of attention online, with the video gaining more than 3,200 likes and 126,000 views.
Source: Read Full Article