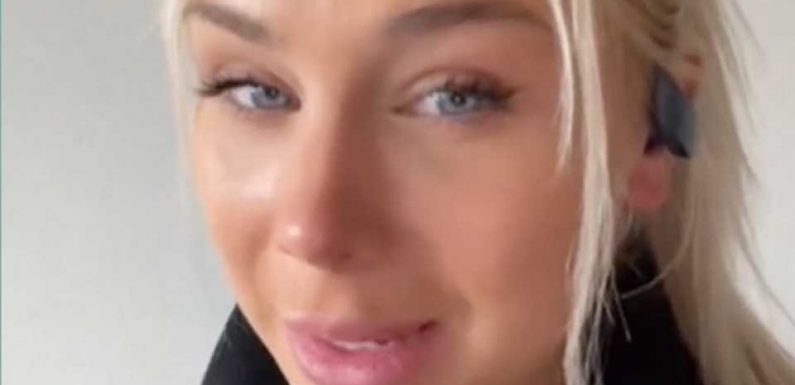 A GYM girl is shutting down haters who think you need to be at a low weight to be considered fit.
She wants to inspire women to live a more well-rounded, healthier lifestyle.
Hannah Barry (@hannahbarryuk) is a health and fitness coach who often shares her workout routines and motivational thoughts on TikTok.
In one video, she revealed her height and weight to prove that what you see on the scale doesn't mean much.
"Welcome to tall girl gym Tok," she began.
The blonde beauty showed off her muscular legs, toned arms, and carved stomach by performing a series of exercises in only a sports bra and tiny biker shorts.
"I weigh 185 lbs and I'm 5'10". Weight looks different on EVERYONE."
She did squats, leg lifts, and ab crunches without much struggle, demonstrating her dedication to and experience in the gym.
Viewers applauded her strength:
"Doing God's work," one person commented.
Most read in Lifestyle
Sky Sports and BT Sport face LOSING Prem TV rights as tech giants consider bid
Prem star quizzed over sex attack on third woman after arrest for two 'rapes'
Shocking moment out-of-control dog attacks police horse as owner just watches
Ferne McCann reveals heartbreaking miscarriage as she fights back tears
"I always hate talking about my actual weight because it's always more than my friends. I'm 5'9" and they are all tiny, so thank you for this," added another.
Weight is something that many people feel uncomfortable talking about, so content creators have been using TikTok as a way to inspire others.
One 5'5" woman named Yue Yue (@the.yueyue) said she works out, eats well, and weighs 180 lbs.
She posted a video flaunting her fit, curvy body to prove that your weight doesn't determine what you look like.
Looking incredible in an olive green bodycon midi dress, the raven-haired beauty said she's "an average woman". 
She then turned around to face the wall while hovering her hand over her head to demonstrate her height.
Over this, she wrote: "5'5" and a half in length."
Showing off her tiny waist, she then proceeded to turn completely around and flex her biceps as she declared she "works out" and "eats ok," but weighs 180 lbs.
Viewers immediately flocked to the comments to praise Yue Yue for showing the realities of weight distribution. 
Read More on The Sun
Inside terrifying £250k blackmail plot over Tesco Clubcards
I took my dog to groomer & now he looks like Richard Simmons
"THIS! I laugh when guys are like 'I want a woman that's 140 lbs.' Like boi, I haven't been 140 since 9th grade," one person wrote with a laughing emoji.
Another shared: "My mom would say '180 lbs in all the right places.'"

Source: Read Full Article