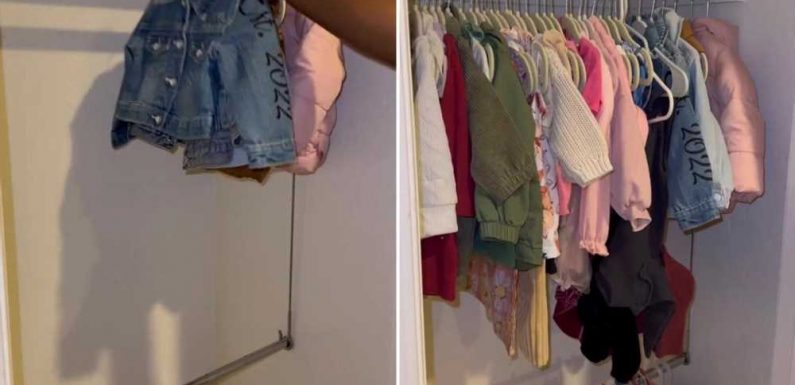 ANYONE who has bought baby clothes will know they're really small, so putting them in a standard wardrobe feels like a waste of space.
Wardrobes are just not built for clothes that are short in length and whilst most parents put baby clothes in drawers it turns out there may be another way. 
One mum has shared the hack she uses to store baby clothes in a wardrobe without taking up loads of wasted space. 
Kia Matthews is a new mum and has been sharing parenting tips and tricks on her journey. 
She shared her clever hack in a TikTok video online. 
She said: "Things I've learned as a first time mum."
Read more parenting hacks
Teacher reveals the secret codes they use when talking about YOUR kid
Mums are just realising the special hidden nappy feature & it's blowing minds
"Baby clothes are so small that you waste a lot of vertical space." 
"You can temporarily add additional vertical space storage with a closet rod extender."
A rod extender costs £2-6 in Dunelm depending on your chosen length. 
Kia says one of the best parts about a rod extender is you can adjust it as your baby grows. 
Most read in Fabulous
I'm a gynaecologist – what we think when you come to us while on your period
I save hundreds by never washing my bedding – people say I'm gross, I don't care
I'm a mum-of-4 & pregnant again at 41 – I was embarrassed to tell my kids
I was sick of staring into next door so transformed my windows for just £6
Kia said: "I love that the rod is adjustable so it grows with the baby."
As your baby grows you can move the rod higher or lower so you have space to fit their new clothes. 
FABULOUS BINGO: Get a £20 bonus & 30 free spins when you spend £10 today
Depending on the length of your baby's clothes you may even be able to fit in two rods and have three layers of your baby clothes in the wardrobe. 
After your baby is grown up you can use the rod as extra storage in your wardrobe for small items of clothing like skirts and shorts.
Kia's video gained over 615,000 views and mum said the idea was genius. 
One user said: "I got so annoyed with hanging baby clothes. I just shoved them in a drawer lol."
Another said: "Ok but hanging baby onesies upside down, genius !"
A third viewer said: "I'm doing this! Thank you."
A fourth viewer said: "This is genius because my girls will be sharing a closet!!"
Source: Read Full Article