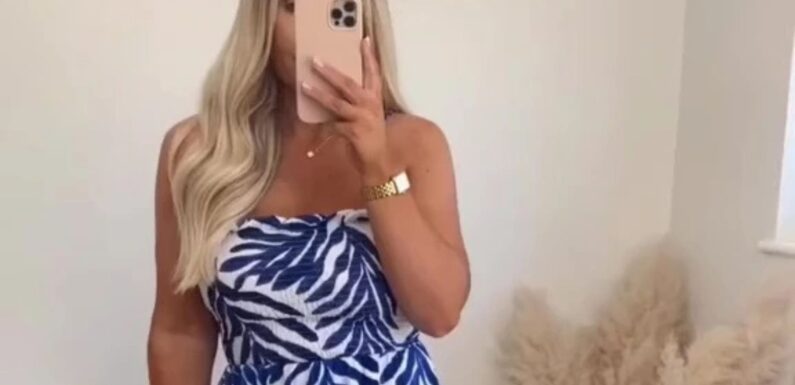 A TRENDY fashion fan has revealed the latest bits you can nab at H&M now, including a dress for a mere £12.99.
Summer is just around the corner and if you're looking to replenish your wardrobe with new items, one shopper, Hannah Brown, has shared what you can expect to buy at H&M this June.
Not one to gatekeep, the stylish shopper took to TikTok where she revealed some of her top finds in a try-on haul.
One of them was a show-stopper of an outfit – a cream crochet set with a midi skirt and a long sleeve top that's selling for £39.99.
In her video, the stunner had paired it with a straw bag – the ideal combination for a holiday or a trip to the beach.
However, be warned, as some customers said the garment had an oversized fit and it was also coming up shorted than expected.
read more on style
Woman shocked after her heels snap but some saythat's the least of the issues
I'm a fashion whizz & you need to run to Primark for the best beach bags
Next up was another look ideal for a sunny day – an A-line dress with a blue flower print that was scanning at £17.99.
According to H&M, the item comes in a range of sizes and is also available in other colours, such as black, light beige, as well as a dainty print in pink.
Whilst shopping, the fashionista, who posts under the username @hannahbrown2323, also nabbed a midi dress with a blue leaf trend.
This smock-topped sleeveless garment was selling for £12.99 and will be perfect for a BBQ party or a picnic.
Most read in Fabulous
King gives up £1.2m home as he trims list of multi-million pound properties
I put up a privacy fence to block out my neighbours but they'vesabotaged it
Urgent dog warning as pet nearly dies during beach walk after horror encounter
I was Meghan Markle's etiquette teacher… here's what I think of her now
The fast-fashion retailer also offers the dress in five other colours, including black, bright blue and rich green, and it's received over 200 positive five-star reviews online.
One customer said: ''This is a beautiful pattern and colour combination really lovely for warmer weather.
FABULOUS BINGO: Get a £20 bonus & 30 free spins when you spend £10 today
''Its decent material for the price and sits mid calf on me at 5ft 4 [sic].
''Nice and stretchy around the bust due to the smocking detail.''
The shopping haul then turned to another outfit she had picked up – a pair of light-wash denim shorts Hannah had styled with a thin stripy shirt.
The oversized linen shirt, available in black, white, pink and bright blue, was scanning at £24.99 and will be the perfect addition to any wardrobe this season.
Last but not least, Hannah revealed the final garment of the successful haul – an off-the shoulder maxi dress in white.
The cotton number, selling for £24.99, can also be nabbed in rich yellow and black.
A delighted shopper wrote: ''Fits perfectly. I'm a size 10 and the Small is a great fit.
''Very flattering and easy to wear. Perfect for day with flip flops or sandals in the evening. Very happy!''
Someone else also urged others to not sleep on the bargain buy, writing: ''Love this dress!
''Size 20 usually – big busy and 5ft9. XL is a perfect fit – generous but L would be too small. Beautiful dress. Buy it!''

Source: Read Full Article