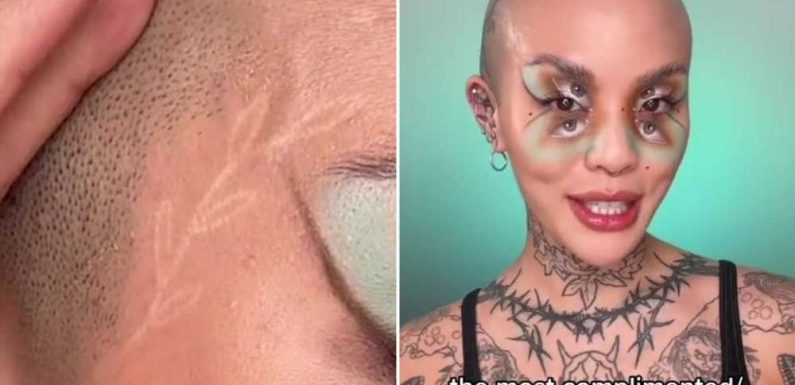 A WOMAN who's covered in tattoos has revealed the inking she gets the most compliments on – and it's probably not the one you think.
Mei often takes to TikTok to show off her collection of etchings, which cover her arms, torso and decolletage.
But she's also frequently asked which of her tatts gets the most attention.
And in response, she revealed it's a teeny leaf design on the temple.
"Of all the tattoos I have, there's one I get the most comments and compliments on, and the results will shock you," she said.
"The funny thing about it is that it's not even a black ink tattoo and it's not even my biggest tattoo – it is this one right here."
Read more Tattoo stories
We're tattoo artists and yes there are places we will never ink
I'm a tattoo fixer – all the ways Katie Price's are botched… one can't be saved
She said she's also asked if it's a scar or from laser tattoo removal, but revealed it's just an inking done with white ink.
"The tattoo is completely hand poked by my friend Melina and it took probably two or three passes over the duration of a year in order to achieve this look," she explained.
" In all honesty, this is probably the closest I'll ever get to a face tattoo in my entire lifetime and I adore it so much."
"This is the tattoo I get the most compliments, questions, and comments on!" Mei captioned her video.
Most read in Fabulous
Mum-of-22 Sue Radford in car crash which leaves family motor mangled
I was on £35 benefits – now I've got deposit for dream house, neighbours are fuming
I bought a tiny fluffy poodle but he kept evolving…he's now like a 15st horse
Mum slammed for giving her 7-month-old 'Jeremy Kyle' version of baby led weaning
"I guess it makes sense as it's right on my face ahaha."
"I've never seen it before, it's so simple but so pretty," one person commented on the video.
As another wrote: "I was curious about that one!
"It's really amazing!"
"I've never noticed that one until now omg I love it," a third added.

Source: Read Full Article