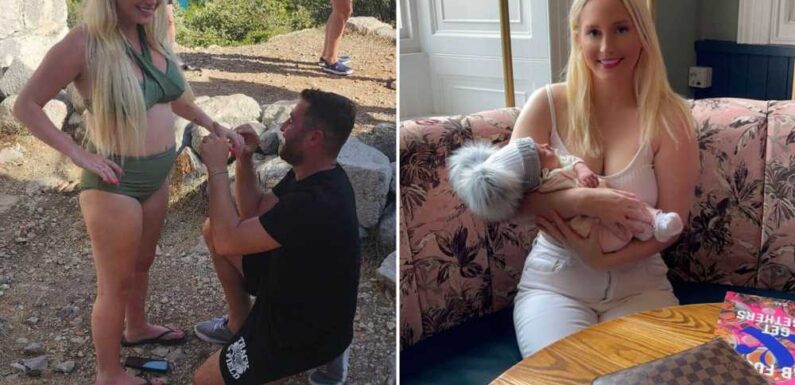 WHILE finding love would be a little late in life for most grans, for Rachel McIntyre her relationship still has decades ahead of her.
This is because at just 34 Rachel is one of the UK's youngest grandmothers.
And Rachel, who lives in Edinburgh, Scotland, has revealed she's engaged to her holiday romance – after spending a fortnight with him.
The mum, who fell pregnant at 15, told how she met local Murat while on holiday in Turkey and after their 'instant attraction' he even got a tattoo of her name above his heart.
However, while the couple are besotted Rachel said she's had a mixed reaction on social media with some naysayers saying she doesn't know Murat, 30, well enough to get engaged.
But she insists she doesn't need more time.
More from Fabulous
FESTIVE FUN
Mum shares her cheap ideas on how to get the best out of your Elf on the Shelf
SEX DROUGHT
Married and sex deprived? Why you must tell your partner if you want intimacy
Speaking in this exclusive interview, Rachel says: "Murat's completely different from anybody I've ever been with before. It was love at first sight.  
"He doesn't like to ignore my messages or keep me hanging like exes have done in the past. 
"If he's too busy to text me, he will let me know and get in touch when he's done. He's very attentive and always calls me his love.
"He's really stepped up as a father figure."
Most read in Fabulous
DREAM DISCOUNT
Forget the Primark PJs – I found some in Sainsbury's that are cheaper
DI-WOW
I got a damp caravan for free and used cheap Shein buys to give it a new look
BARGAIN HUNT
How to get FREE M&S goodies throughout December
SKIMS-CREDIBLE
Fashion fans racing to Primark to bag new pyjamas that are better than SKIMS
Rachel claims she met Murat, 30, at breakfast at the hotel where he worked on the first day of her holiday with her friend, and they were immediately attracted to each other.
They chatted again at the bar and hit it off, proceeding to spend as much time as possible together over the next nine days – going to dinner, bars, and even booking a night away in a separate hotel to get some privacy. 
He proceeded to give her a promise ring before she returned home but she missed him so much that she returned to Turkey less than two weeks later for an eight-day trip. 
That's when Murat, from Mardin, Turkey, got down on one knee, much to her surprise, and she accepted his proposal – only to be told by naysayers that he's after her money or a British passport. 
But she's said it's true love, claiming that Murat has been more generous with his money in the past six weeks they've known each other than her ex was during their four-year relationship. 
Recounting their whirlwind romance, Rachel, who has returned to the UK, says: "It was an instant attraction. 
"We're not planning to get married for another year or two as we want to spend some time getting to know each other better. 
"He followed me to the bar so we could chat more, but some of the other guys in the hotel made it really difficult for him to pursue me – it was because all the guys there wanted me and they were jealous. 
"We spent as much time together as we could after meeting. We even booked a night away together in a different hotel to get some alone time. 
"I was on holiday with my friend and her son at the time, so we all went together for meals and things like that. 
"We got on really well, but we didn't discuss marriage or anything like that before he proposed – although he did give me a promise ring when I flew home. 
"I went back after a week and five days. It was my first time flying alone, but I really wanted to see him.
"He booked us a boat trip, and he proposed to me when we stopped at an old historic church. It was a bit of a shock – but a nice shock. I've been married before, and I didn't think I'd want to do it again.  
"I shocked him too. He was surprised when he found out that I'm a gran at 34, but then again, everyone was surprised.
"While he did ask if I'd be prepared to move out to Turkey, I obviously can't right now because my youngest daughter is only 10 and still in school, but my eldest is 18. They absolutely love him. 
"We are planning to travel back and forward until we're married. We've spoken about where we'd like to live for good and I'm considering moving to Turkey. 
"He actually surprised me by getting my name tattooed above his heart. It was a nice surprise. No one has ever done that for me before either." 
When asked about getting engaged so quickly, Rachel admits she surprised herself: "You just never know what life's going to throw at you. I never thought I'd get engaged so quickly." 
She also hit back at the couple's naysayers: "People will hate on everything and anything. I feel like the people who hate on others are unhappy within themselves, and me and Murat don't care what anyone thinks. 
"We are happy and in love." 
Rachel became a grandmother for the first time in July when her daughter, 18, gave birth at Edinburgh Royal Infirmary.
Rachel told The Scottish Sun on Sunday: "I'm so happy, she's a ray of sunshine.
"She is just so cute and I'll be glad to take a break to help pitch in with changing nappies and bottle duties.
"I'm so proud of her and can't wait for everybody to meet her.
"It feels weird to say I'm a gran because you never expect it to happen in your 30s.
"I'm too young to retire like the other grannies, so I'm looking forward to getting back to work after some family time.
Read More on The Sun
STAR POWER
Cheap Spanish beach town with most sunny days a year loved by Hollywood's A-list
DRY AS A BONE
Never use your dryer thanks to washing machine button people ALWAYS ignore  
"My fans have been fantastic, but I know they'll miss me if I stay away for too long."
She was just 17 when she had her daughter, who gave birth at the same age.

Source: Read Full Article