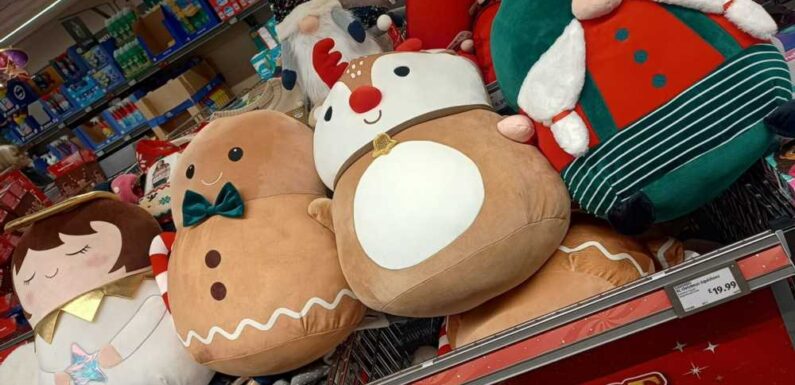 PARENTS are scrambling to get to their nearest Aldi, desperate to check out the new-in festive buys.
So if you've got a little one, or know someone who does, you'll need to listen up.
Particularly if you know someone that's a fan of Squishmallows, it's time to put your shoes on and run to your nearest supermarket. 
Recently we've seen children go wild over Squishmallows – from everything from McDonald's Squishmallow Happy Meal toys, to Squishmallow headphones from B&M.
But now, just in time for Christmas, Aldi have jumped on the bandwagon and are now selling their very own version – Squishees. 
Stunned at her finds, one savvy shopper, Kayleigh Hardy, took to social media to show off the new-in Christmas buys.
Read more shopping stories
PAW'S OFF
I cleared Asda's shelves of a 45p reduced buy – I don't care what people say
ELF-ING HELL
Parents race to Poundland to nab Elf on the Shelf goodies – prices start at £1
Posting on Extreme Couponing and Bargains UK, a private Facebook group with a staggering 2.3 million members, Kayleigh posted a picture of the festive plush toys and wrote: "Aldi UK Christmas XL Squishiees. 
"How cute – £19.99 each.
"Large in size and super soft."
Not only is there a Twinkle the Angel Squishee, but there's also a Cookie the Gingerbread, Norbert the Gonk and Rudolph the Reindeer too.
Most read in Fabulous
new start
Paris Fury lands big money deal with brand as she steps out of Tyson's shadow
AIR TODAY
I put 6 heated washing airers to the test – one high street pick cost 7p an hour
HOUSE THIS
Woman, 20, who didn't want a mortgage transformed old caravan into tiny home
Three's A Crowd
Bride admits she let husband sleep with her mate on their wedding night
For just £19.99 each, these Squishees will make a perfect Christmas gift this December.
They're great for snuggles, are super soft and squishy, with a dreamy marshmallow-like texture, and will be sure to put a smile on your little darlings face this festive season. 
Kayleigh shared her post 15 hours ago, but it has clearly impressed many, as it has quickly amassed 250 likes and 799 comments.
Social media users were stunned at the festive finds and were eager to express this in the comments. 
One person said: "I need them all." 
Another added: "My god child needs one." 
A third commented: "The gingerbread one is cute." 
Whilst someone else wrote: "These are mega."
At the same time, many Aldi shoppers tagged their friends and loved ones to alert them to the middle aisle buys.
One Aldi fan mentioned a Facebook user and penned: "We need to go Aldi."
A second tagged a friend and explained: "Calvin wants this." 
Read More on The Sun
GET THEM IN
I'm A Celeb official line-up as Nigel Farage and Britney's sis head into jungle
CLOSING TIME
Major DIY homeware chain to shut store doors permanently before Christmas
Whilst someone else alerted a loved one: "Isla would love one of these!" 
Fabulous will pay for your exclusive stories. Just email: [email protected] and pop EXCLUSIVE in the subject line.
Source: Read Full Article