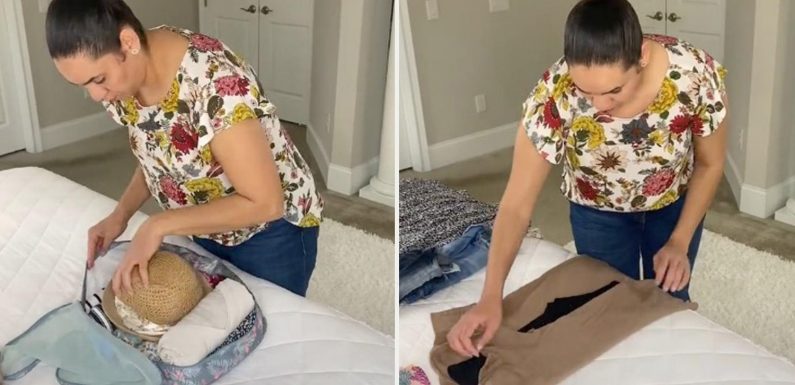 DON'T spend unnecessary money checking a bag for your trip.
Known as the "folding queen," Lennia McCarter posted a video sharing her technique for making the most out of your carry-on luggage.
To make as much room as possible, McCarter folds her clothing items one inside of the other.
First, she folded a pair of pants, and then folded a shirt around them.
Her technique uses much less space than if you were to fold each item serpately.
McCarter then rolls up the folded clothing items, creating a small, tube-like shape.
READ MORE ON TRAVEL TIPS
I have the best tip for traveling with valuables – all you need is a diaper
I'm a flight attendant – you can save money on flights by FREEZING items
The "folding queen" repeated this process with all of the clothes she was packing.
To stay even more organized, she folded together the specific items that she would wear together.
This technique will keep your bag much neater, and will make it easier to unpack your carry-on and get dressed.
When packing a hat, McCarter suggested filling the inside of the hat with clothing.
Most read in Fabulous
FAVOURED ONE
Queen's REAL favourite grandchild revealed – but it's not Harry despite claims
My friend babysat my kids & did the unthinkable – I can't trust her again
I'm called April, I'm always asked the same question due to my middle name
I got 7ml of filler in my face AND fox eye – trolls feel sorry for me
She folded and rolled up a pair of jean shorts, and then shoved them inside the hat.
McCarter then put all of her rolled clothing into a packing cube to keep her clothing both organized and compacted inside her luggage.
Read More on The US Sun
Kris, Kylie & Khloe respond to 'unflattering' court sketches with new art
Many viewers loved her technique, saying: "That hat trick is genius!!!"
Another related to her hat-packing trick, saying: "I also like to fill up the hat! I usually fill it with cami tops and socks!"
We pay for your stories!
Do you have a story for The US Sun team?
Email us at [email protected] or call 212 416 4552.
Like us on Facebook at www.facebook.com/TheSunUS and follow us from our main Twitter account at @TheSunUS
Source: Read Full Article