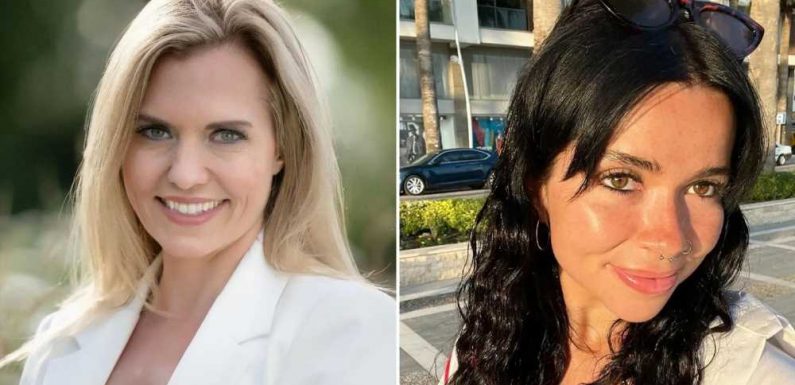 With NHS waiting lists for mental health services at an all-time high, increasing numbers of women are turning to unqualified Instagram therapists for help – but at what cost? 
Sipping her camomile tea, Eleanor Hawthorne took a deep breath and said: "Happiness is a state of mind, happiness is a choice," then headed outside for her daily walk.
But despite repeating the mantras, she couldn't stop the tears.
For the previous six weeks, Eleanor, 28, had been following advice from so-called Instagram "therapists", after convincing herself they had the answer to her mental health problems.
"I was sure that doing what they said would cure my depression and anxiety, but when it didn't, I ended up feeling even worse," says Eleanor, an actress from Liverpool.
The trend of the Instagram "therapist" has rocketed in recent years, with thousands of women drawn to the idea of free, instant, quick-fix advice being just a click away.
READ MORE ON MENTAL HEALTH
Is bipolar a personality disorder?
I'm a mental health expert – here's how to get your man to open up to you
The hashtag #healing has almost 39 million posts, while #therapy has 13.5 million and #trauma 4.4 million.
But while there are many legitimate, qualified therapists operating on Instagram, there are also thousands with no qualifications at all.
"Normalising mental health struggles can be relatable, helpful and inspiring," says clinical psychologist Dr Sarah Bishop.
"But this is very different from someone claiming they know what's best for you or telling you what to do based on their own subjective experiences with no reputable training or qualifications.
Most read in Fabulous
Mum warns about Air Up bottles as she posts disgusting snap of her daughter's lid
Woman who is almost 70 & has no wrinkles shares her £1 anti-ageing trick
I'm a professional cleaner – there's five products I would never waste money on
I paid off £17k of debt in 18 months thanks to an easy trick, anyone can do it
"It horrifies me that vulnerable people are being advised by unqualified, unlicensed and unregulated people when it comes to their mental health.
"We wouldn't let someone give us dental surgery just because we liked their teeth, so we shouldn't take such risks with our mental health just because we like someone's Insta account."
'The more I followed the tips, the worse I felt'
Eleanor first began to struggle in April last year.
Signed off work due to pain caused by gynaecological health problems, and with her boyfriend abroad for his job, she started to feel isolated.
"Without the distraction of my job or the company of my boyfriend, I had too much time to think and began to get depressed and anxious – something I'd suffered on and off with for the past 10 years," she recalls.
Her GP suggested counselling and put her on a waiting list of around six weeks.
Not knowing exactly when her therapy would start, Eleanor turned to Instagram in the meantime – typing "positivity" into the search bar.
"I found myself on all these different accounts run by women who said they were counsellors, or who had experience of therapy," says Eleanor.
"They were all saying: 'Here's how I overcame my depression,' and: ''How to manifest anything – when you decide this is what I am going to get, life has to reflect it back to you.'"
Eleanor says most of the tips they gave were simple – from drinking herbal tea to taking a walk – which was appealing to her at a time when even little things felt like a lot of effort.
"I thought: 'Why don't I give this a go?'" she says.
"Surely I could be happy like them if I took their advice?"
But soon she started to feel even worse.
"I thought it must be my fault I was still struggling. After all, the advice worked for these therapists, so what was wrong with me?" she explains.
"It turned into a cycle where the more I followed the tips, the worse I felt, blaming myself for my failure to be happy and feeling guilty it wasn't working.
"It kept me up all night wondering why. "
Eleanor is not alone.
With Britain in the grip of a post-pandemic mental health crisis, one in five women currently have a mental health disorder, while over a quarter aged 16-24 report having a common mental health problem in any given week.**
The numbers are rising – and help is getting harder to access.
Countless women like Eleanor are turning to social media as they wait.
The problem, however, is that thousands of the "therapists" and "coaches" ready and willing to dish out advice have neither the training nor qualifications to do so.
Dr Bishop explains that to become a licensed clinical psychologist, she trained in psychology for 10 years, studying up to doctoral level at university and including six years' worth of practical experience within the NHS, in GP, hospital and specialist settings.
"I was observed, assessed and scrutinised for years in order to qualify and now, after having been fully qualified for a further decade, I continue to have my work supervised on a monthly basis to ensure I am adhering to the highest professional standards. This is a requirement of my licence," she says.
"But anyone can call themselves a 'therapist' or 'psychologist' on social media as these terms are not protected titles."
Clinical hypnotherapist Zoe Clews has seen first-hand the damage that can be done.
"Telling someone to get rid of the toxic people in their life might sound like winning advice, but without the individual context, it's at best unhelpful and at worst downright dangerous," she says.
"What if the toxic influence in that person's life is a parent? Or an abusive partner?
"Where are the tools, techniques and support needed to help that individual navigate through what may well be an extraordinarily challenging emotional minefield?"
She explains that some of her clients have struggled because they've been unable to harness "positive thinking", or believe they have "manifested" their own problems.
"One young woman, who has given permission for me to share her experience anonymously, came in suffering from depression, anxiety and panic attacks as a result of being severely bullied at school." she says.
"She had coped at the time, but as with many issues, the full response arose later in the form of symptoms.
"With no idea of what was happening to her, internet searches led her to Instagram, where she'd found quotes on manifestation and how we 'create our reality'.
"As a result, she was in a state of very high anxiety, convinced that she was creating her own 'bad thoughts' because she had done something wrong and was thinking wrong.
"So she then gaslit herself, convinced she'd created her situation with the bullies by her own thoughts of 'being bad.'"
'I spent £6k before realising something was seriously wrong'
Lucy*, 25, knows these feelings only too well. In early 2021, she was studying for her own degree in psychology and was struggling. The course was hard, and she knew that even when it was done, she'd still need to do a master's and then get a therapist's licence.
"The path ahead just felt so long," she recalls. "That's when I saw these enticing accounts on Instagram – women promising an instant way to help other people and to make an impact in the world. Naively, I thought: 'Here's a chance to help people achieve their dreams and be happy and healthy now, not in 10 years' time.'"
Lucy saw a post by a female coach and "therapist" talking about launching her new course and decided to sign up to it – handing over £1,000 from her savings. She attended weekly online workshops with 20 other women mostly in their 20s.
"The sessions were all about sisterhood and energy – creating a life out of joy and finding your mission in life," Lucy explains.
"I really enjoyed connecting with others and the sense of community it gave me.
"It was a world away from my dry, conventional university course." 
However, as Eleanor found, the "expert" advice she was given was generic – sayings like "be yourself", "just take the leap" and "the power is within you" – with no substance.
When the course finished, she was at a loss, so she signed up to another one run by a different therapist.
"It took over two years – and £6,000 of neverending courses paid for with my savings – before I started to realise and accept that something was seriously wrong," Lucy says.
"I became brainwashed into believing that if only I followed their advice, I'd not only be able to help other people, but feel satisfied, happy and successful myself."
When Lucy didn't achieve these things, she became anxious and stressed.
"I was scared I wasn't as capable as everyone else – that I wasn't being successful in becoming a social media life coach myself.
"I convinced myself there was only one person to blame for my failure: me.
"Looking back, I feel I was exploited at a time when I was lost and vulnerable, and that makes me angry.
"And I know I'm not the only one, as a few women I'm still in touch with from my courses feel exactly the same."
It was shortly after completing her degree, in June 2021, that Lucy unfollowed the accounts she was engaging with, vowing never again to do another IG course.
She says it was the best decision she ever made.
Her parents, who were unhappy about the amount of money she was spending on courses, were also relieved.
"It feels so nice to be engaging in the real world again, rather than just sitting alone on my laptop," Lucy says.
"I was brainwashed into believing the promises I was given, but in reality it only ended up making me feel worthless.
"Now I'm finally looking forward to the future again."
Eleanor's moment of clarity came six weeks after she first searched for #positivity.
She woke up one day and looked at the sunshine and just knew the Insta accounts would tell her all she needed to do was get outside.
"I just thought: 'I've had enough,'" she recalls.
"I'd also come to realise how many of the accounts were run to make money for the creator – who was often encouraging people to buy meal supplements, personalised journals, workout plans and Zoom counselling – and deleted them all."
She has since had cognitive behavioural therapy (CBT) on the NHS and is doing much better.
"I knew I needed help as soon as my depression and anxiety came back again," she says.
"But I wasn't able to recognise until later that saying all the mantras in the world and drinking endless tea wasn't going to help me."
Zoe warns that any "therapist" offering a quick solution to psychological problems should have you running for the virtual door.
"Any mental health issue that affects how you function in day-to-day life or your mood needs to be dealt with individually, with professional compassion, insight and support," she says.
"People often have complex issues that can't be fixed with simplistic memes and mantras.
Read More on The Sun
BBC fans rejoice as beloved drama lands TWO more series and Christmas specials
Martin Lewis fan reveals how they boosted pension by £11,500 with easy hack
"If it were that easy, we wouldn't be in the middle of the worst mental health crisis in living memory."
WHERE TO ACCESS MENTAL HEALTH SUPPORT
• MIND: visit Mind.org.uk/information-support or call the info line on 0300 123 3393.
• NHS: to find a local NHS urgent mental health helpline, text SHOUT to 85258 for free. You'll then be connected to a volunteer. Or visit Nhs.uk/service-search/mental-health/find-an-urgent-mental-health-helpline.
Name has been changed  Photography: Getty Images, Elizabeth Keates  Source: **British Medical Association  Visit Drsarahbishop.co.uk
Source: Read Full Article