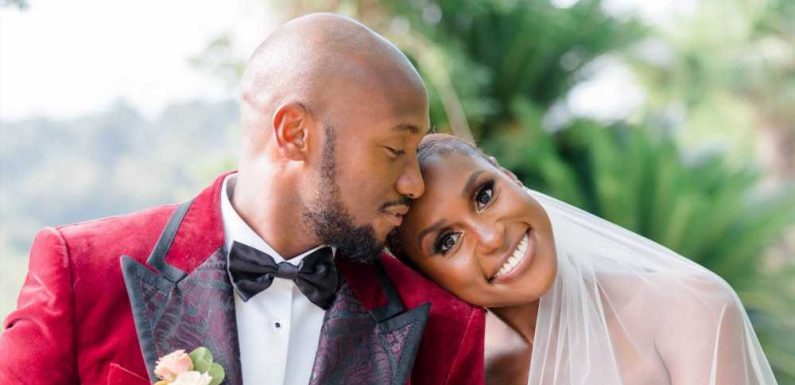 Wherever Issa Rae shows up, it's guaranteed she'll be wearing a hairstyle that shows off the beauty of her natural coils. And the Insecure star's wedding day is no exception.
Over the weekend, the actress married businessman Louis Diame in an intimate ceremony in the South of France. And luckily, Rae is blessing her Instagram followers with a look at her wedding day glam.
On Jul. 26, the star posted a gallery of photos by wedding photographer Lauren Fair to her feed. In the caption, she joked about her wedding day being an impromptu photoshoot, and taking photos with "somebody's husband."
For her big day, Rae wore a custom strapless Vera Wang Haute dress, while the groom wore custom Dolce and Gabbana. The star paired her couture gown with a red, almost-butt length curly low ponytail, complete with a center part. Rae's updo was done by her go-to stylist, Felicia Leatherwood, who has also created all of the hairstyles you love on each season of Insecure.
"I didn't start embracing my hair until college, but I still didn't have a handle on it. Then I went through a period in 2010 where I did too much to it, and I did the big chop," Rae previously told InStyle of her coils. "But [stylist] Felicia Leatherwood was the game changer for me. She has been instrumental in helping me to see all the things I can do with my hair and taught me how to take care of it."
VIDEO: InStyle On: Salon Naturals
As for makeup, Rae's makeup artist Joanna Simkin kept things soft and simple with a subtle smoky eye, long fluttery lashes, and a neutral lip.
But even if you aren't getting hitched anytime soon, Rae's low ponytail is a hairstyle that will keep you cool on those scorching mid-summer days.
Source: Read Full Article