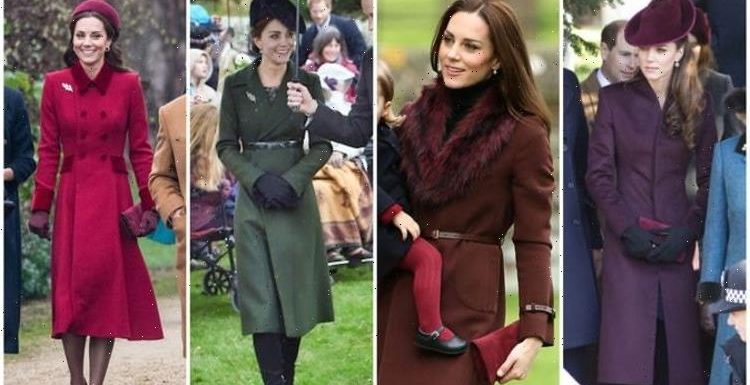 Meghan and Kate smile as they arrive at Sandringham Church
We use your sign-up to provide content in ways you've consented to and to improve our understanding of you. This may include adverts from us and 3rd parties based on our understanding. You can unsubscribe at any time. More info
Kate Middleton joined the Royal Family at Sandringham every Christmas between 2011 and 2019, with a few exceptions when she instead celebrated with the Middleton's in Berkshire. However, this year the royals will hopefully be joining the Queen who will be celebrating in Windsor Castle. The Queen also spent last year at Windsor for Christmas with the late Prince Philip due to coronavirus restrictions.
A style expert has spoken exclusively to Express.co.uk about Kate's Christmas looks each year between 2011 and 2019.
Daena Borrowman, Marketing Manager at jewellerybox said: "From her first Christmas as a royal in 2011 to the last time the royals could safely gather for their Sandringham festivities in 2019, the Duchess of Cambridge's Christmas day church service outfit has been a much anticipated annual festive highlight by fashion editors and royal fans alike.
"And Catherine never disappoints.
"In fact, her glam game is meticulously revamped at each passing year.
"For her very first Sandringham service, the then new Duchess chose an enigmatic dark berry frock coat by an independent dressmaker with a colour coordinated show stopping velvet hat by Jane Corbett and accessorised with black Mascaro platform pumps and understated Kiki McDonough green amethyst earrings," Daena said.
She continued: "In 2015, she was the picture of elegance in a forest green long belted coat from Sportmax, dark green Sylvia Fletcher for Lock & Co Hatters headpiece and black Mulberry Bayswater clutch in black suede.
"The Duchess repeated two elements previously featured in her Sandringham service outfits including her much loved Kiki McDonough green amethyst earrings and her trusty Aquatalia boots.
"She also rewore a diamond and pearl studded acorn and leaf motif brooch, paying tribute to the Middletons' familial coat of arms," she said.
The expert continued: "The Duchess' 2016 Christmas look was a monochrome dream and a lesson in wardrobe recycling.
"For Christmas with her parents in Berkshire, she repeated her chestnut brown Hobbs 'Celeste' coat with a jaw dropping red fur scarf, proving that the addition of the right scarf can elevate a basic coat from drab to utterly sensational.
"A pair of burgundy Tod's fringed leather pumps, maroon velvet Mulberry clutch and pearl earrings on loan from the Queen finished her look.
"In 2018, the Duchess dazzled in yet another monochromatic ensemble.
"In a red Catherine Walker coat dress with velvet detailing, a Jane Taylor 'Halo Band' headpiece with a beautiful black bow at the back of her head, maroon bow detail gloves, her maroon velvet Mulberry clutch on repeat and coordinated Gianvito Rossi pumps, she looked every bit the image of a future Queen.
"Her jewellery was minimal, as usual, with Asprey Oak Leaf earrings and her Middleton family crest brooch," Daena added.
She then said: "While no Sandringham service happened in 2020, the Duchess made an appearance outside Windsor Castle in a regal green, double breasted Catherine Walker coat with a matching faux fur collar from Troy London, Ralph Lauren boots, a sleek black Alexander McQueen clutch and Cornelia James wool gloves with bow details.
"The Duchess of Cambridge certainly dresses for the role of a Queen-in-waiting.
"While she has had style rehauls over the years, she has finally nailed down her style essence, central to which is a big coat.
"Perhaps, the current Queen has inspired her to play with bold colours, as she is being spotted in a lot of bold, monochromatic outfits.
"She teaches us the value of investing in well made key wardrobe staples and has perfected the art of re-wearing.
"By swapping accessories, or dressing up older coats with statement scarves, the Duchess is validating, time and again, that reusing old clothes can be glamorous," she said.
Daena finally added: "She is always seen out and about in heels, come rain or shine.
"Her favourite footwear brands include Tod's, LK Bennett, Gianvito Rossi and Aquatalia her secret is that she has broken in classic pieces by brands that work for her and often purchases the same design in different colours."
Source: Read Full Article