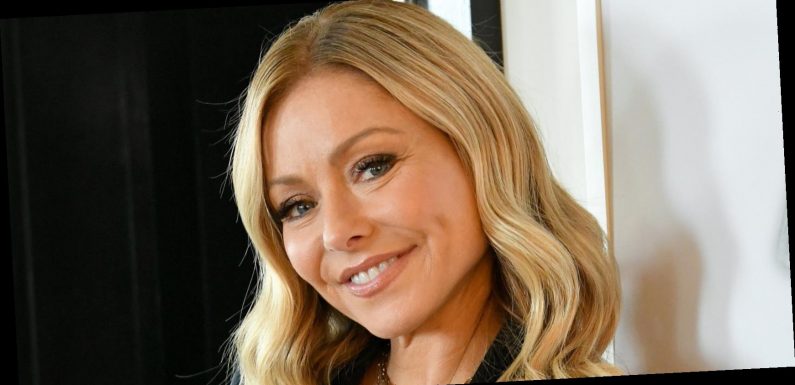 Leggings are the type of thing people swear by. Everyone has a favorite pair to wear while working out, a pair that feels acceptable enough to wear to dinner, and — if you have been paying attention during 2021 — a pair Tik Tok convinced you to buy. Whenever we discover a pair of leggings, most likely brought to our attention by Jennifer Garner or Oprah, we buy a pair and write about them. Truth be told though, none of them are normally that news-worthy. They're the tried-and-true pairs we've already heard about hundred of times over. But as it turns out, Kelly Ripa has been repeat-wearing an unexpected pair for months, possibly even years.
We first realized Ripa had a favorite pair of leggings when she re-wore her famous Dr. Fauci science fangirl sweatshirt. She styled them with a pair of Ultracor lighting bolt leggings that she's actually been spotted in a couple times, which would possibly explain why her exact pair is sold out. Upon further inspection we realized that she often wears leggings by Ultracor, a brand that still feels under-the-radar and definitely not a household name like Alo Yoga, Spanx, or Outdoor Voices. Naturally, cozy outfit queen Jennifer Garner has also been spotted in a pair of Ultracor leggings, but Ripa appears to be a dedicated fan. According to celeb style website StarStyle, Ripa has been wearing them since 2019.
Ultracor leggings are known for fitting like a glove, but their signature elastic waistband and stretchy composition makes them comfortable without constantly sliding off during a run or at-home pilates session. This is all due to the compressive fabrics the brand uses to help flatter your figure like shapewear without constricting movement. Also, each pair comes with a built-in thong, which is pretty much the most amazing feature we can't believe we've never heard of.
The brand is considered luxury with most pairs costing $198 dollars, but they are made of luxe high-performance fabrics with designs unlike any we've seen elsewhere. In fact, they have the pair of knockout leggings in stock, featuring a shiny star design that Ripa has also been spotted in. 
It's also good to note that Zappos has a ton of options for a discount, but if there ever was a time to splurge on a pair of leggings, it would be 2021. They're probably all we're going to be wearing for the rest of the year.  Also, Ripa has been seen wearing them multiple times, so clearly they're built to last and work with anything you'd want to wear — even your Dr. Fauci sweatshirt. 
Shop the unexpected leggings brand Kelly Ripa can't stop wearing below.
Ultracor Ultra High Lux Knockout Leggings
Shop now: $198; zappos.com
Ultracor Ariel Ultra High Leggings
Shop now: $160 (Originally $198); zappos.com
Ultracor EarthPix Ultra High Leggings
Shop now: $198; zappos.com
Ultracor Constelaciones Ultra High Leggings
Shop now: $151; zappos.com
Ultracor Galaxia Ultra High Leggings
Shop now: $188; zappos.com
Ultracor Onduler Camo Ultra High Leggings
Shop now: $178; zappos.com
Source: Read Full Article