Typically, birthdays means big number balloons and sparkly bottles of rosé. For Kylie Jenner, it means creating another birthday collection for Kylie Cosmetics. This time it's the packaging that's getting all the attention. In the photos, Kylie Jenner wears a $6,000 "party animal" headband. Don't get too upset though, because there's an easy way to dupe it.
Jenner is not your average twenty something. While you're celebrating your birthday with boxed wine and your besties, this billionaire is going above and beyond and the accessories prove it. There's no word on how the soon-to-be 21-year-old will be celebrating her birthday in real life, but there's a good chance that she will be wearing the Alexander Wang headband on her Birthday Collection packaging.
As People Style found, the Party Animal Headband is not your average accessory. The glittery party accessory is from Alexander Wang's September 2017 fashion show and rings in at a cool $6,000.
According to the website, this is a made-to-order accessory that is only available in-stores. It's created with a mixture of rhinestones and feather and is so exclusive that you actually have to contact the store by phone to get it.
Basically, this is not your average birthday accessory. You'll have to plan at least sixth months ahead of time and save up for a while to get one for your big day.
If you're looking to get a Jenner-like accessory for your birthday, you're not completely out of luck. You might not be able to splurge on a feather and rhinestone headband, but there are plenty look-a-likes out there. The best part is that they have the same aesthetics for under $10.
The most similar looking is one from Shop Sweet Lulu. The plastic headband says is black with all capital letters and confetti all around it. It's not exactly like Jenner's, but it gets the posint across. Oh, and it's only $7. You're welcome.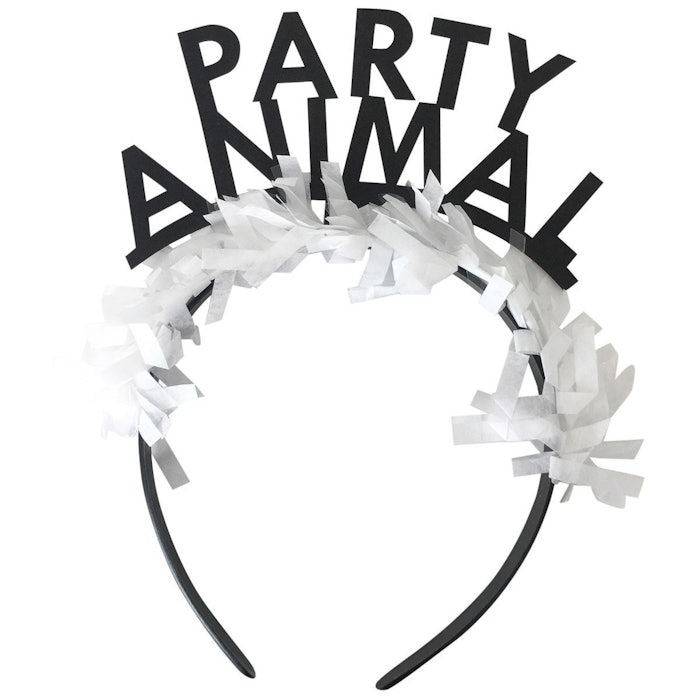 $7
If the headband looks familiar to you, that's because you've seen it before. Bella Hadid and Kendall Jenner wore the headbands at the September 2017 show. So, yes, Kylie is not the first Jenner to rock the look. Of course, she is the first one to wear it for an actual birthday though.
Oh, and as if buying one $6,000 headband isn't enough, Jenner bought two of these accessories for her Kylie Cosmetics shoot. The first was the "party animal" accessory and the other said "secret location." The two accessories alone ring in at $12,000. She'll only have to sell 400 Lip Kits to make up for the purchase.
The Party Animal Headband is featured on the product packaging for the lipsticks and the Secret Location Headband is on the eyshadow palete packaging. So you might not be able to actually purchase the headbands, but they can sit on your makeup table for a $65 palette or $17 lipstick.
Go ahead and start saving up for your headband, because you're going to need a while to save up. Or, you know, just run to your local Party City to snag one that you can party in and not be afraid to misplace it.
Source: Read Full Article