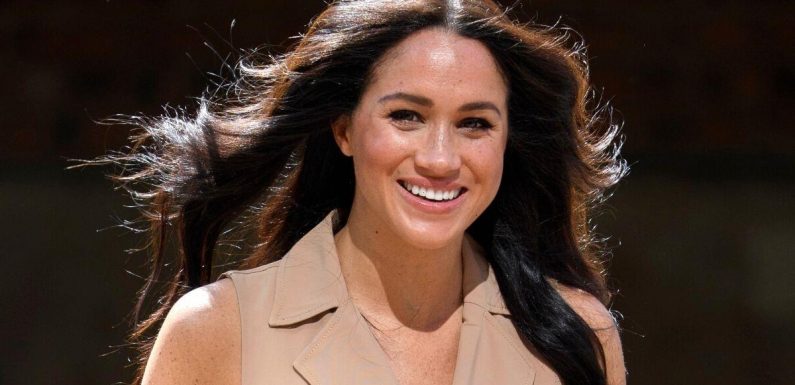 Meghan Markle: 'Less and less interest in her' says Schofield
We use your sign-up to provide content in ways you've consented to and to improve our understanding of you. This may include adverts from us and 3rd parties based on our understanding. You can unsubscribe at any time. More info
Meghan Markle is 41 years old but looks half her age due to her glowing skin. Sharin Shafer from Skinfluencer spoke exclusively to Express.co.uk about the skin treatments which the Duchess of Sussex could benefit from.
She suggested: "We recommend that Meghan continue with her regimen of monthly medical grade facials, quarterly skin remodelling treatments, high-quality skincare products, and routine laser sessions to maintain her flawless complexion and firm skin.
"Treating all skin types safely and effectively was a driving factor when I launched Skinfluencer, the go-to clinic for those with exacting standards—and difficult-to-treat skin."
According to the skin care expert, the Duchess of Sussex's skin type "needs to be treated carefully".
She explained: "Skin types, like Meghan's, do need to be treated carefully, but with advancements in energy-based devices and the introduction of effective skin remodelling treatments, there are more ways than ever to treat conditions such as acne, dark patches, uneven skin tone, open pores, dull complexions, scarring and hyperpigmentation even on Fitzpatrick Type 6 skin.
"Skin remodelling treatments which stimulate collagenases such as PRP, Profhilo and skin boosters are safe to use on darker skin types like Meghan's.
"These treatments work wonders for overall skin rejuvenation, particularly when combined with energy-based treatments and medical-grade skincare products."
Ms Shafer suggested the "most important factor" for Meghan to consider when getting any "advanced aesthetic procedures".
The expert claimed: "The most important factor is that Meghan gets advanced aesthetic procedures that are performed by skilled and certified clinicians who are experienced.
"If an aesthetician is performing the treatment, make sure that they hold, at a minimum, an NVQ Level 4 certification."
Meghan is passionate about her skincare and has shared a few of her beauty secrets in the past.
Before marrying Prince Harry in 2018 and becoming a member of the Royal Family, Meghan wrote a lifestyle blog called The Tig.
She posted about food, travel, fashion, and beauty, sharing skincare tips and tricks with her fans. The Duchess stressed the importance of looking after one's skin, especially as you age.
In an interview with Best Health in 2015, Meghan said: "As I'm getting older, my approach to ageing is quite different.
"I make sure that I take care of my skin and body, especially with the work hours I have."
This is when Meghan worked long hours as an actress – the Duchess shot to fame in the early 2000s as she played the role of Rachel Zane in Suits.
One of Meghan's anti-ageing secrets is to make sure to do facial exercises and massages. "I swear it works, as silly as you may feel," she told Birchbox in 2014, referring to a facial routine developed by the aesthetician Nicola Joss.
She added: "On the day I do it, my cheekbones and jawline are way more sculpted." After doing her facial exercises and moisturising, Meghan usually puts on a little makeup.
Instead of foundation, she wears primer. In 2017, she spoke about using Laura Mercier Illuminating Primer, which is available for £17 at Cult Beauty. "I don't wear foundation unless I'm filming so this is what I put on every day after moisturiser to give my skin a dewy glow," Meghan said.
Another beauty product Meghan is a fan of is a face serum called Quench Hydrating Face Serum, which is available for £68 at Look Fantastic. She also makes sure to take care of her lips, praising a lip balm named Fresh Sugar Advanced Therapy Treatment, which featured sea fennel and orange extracts.
"I have searched high and low and tried every kind of lip balm, but this is the very best," Meghan said. "Soft, kissable, buttery lips. I swear by it!"
Source: Read Full Article