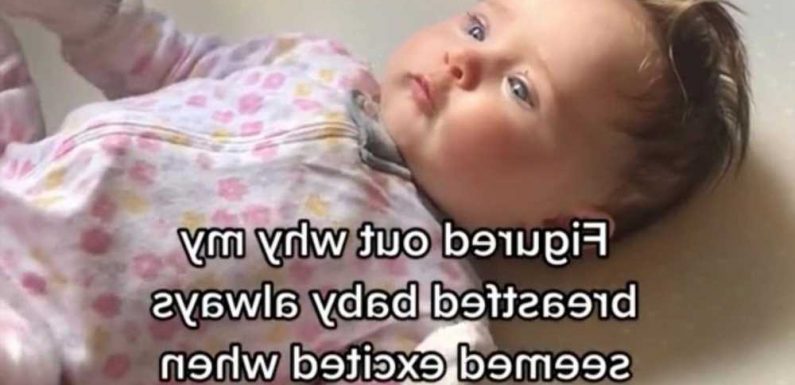 A MUM has taken to TikTok to reveal the reason her daughter gets so excited every time she's in her cot – and people are finding it hilarious. 
Katie, known online as @katie_grace62, regularly shares parenting tips with her 101,000 followers. 
In a new reel, the mum-of-three shares her latest revelation – that the reason her daughter loves being in her cot is that the light above it looks like a pair of boobs. 
She said: "Figured out why my breastfed baby always seemed excited when laying in her crib…
"Because there's a set of boob lights hanging over her crib."
During the 10-second video, Katie's daughter is seen laying in her bed, smiling while kicking her feet and waving her arms. 
MORE PARENTING NEWS
My dad was a famous 80s popstar, he gave us unique baby names & took it too far
I'm a nanny and there's 10 essential steps to nailing potty training
Her eyes appear to be stuck on something on the ceiling, which Katie later reveals is a ceiling light. 
This has two white pendants, held in place by round metal circles in the center, causing them to look like boobs. 
Fans loved the mum's revelation, with the video gaining more than 103,000 likes and 829,000 views. 
In the comments, Katie's followers shared their reactions, with one writing: "OMG!! we have boob ceiling lights in all our rooms and my daughter is obsessed lmao. We call them her 'sky boobie'."
Most read in Fabulous
My daughter's school said she drew an inappropriate pig – I can't see the issue
I'm a traveller and here is how I get my living room sparkling
My dad was a famous 80s popstar, he gave us unique baby names & took it too far
I paid £48k to transform my body – trolls say my curves are disgusting
Another said: "The way I wheezed laughed at this."
A third added: "Detail I made sure was changed when we did the nursery lol."
Someone else put: "Lool so cuteee."
Source: Read Full Article