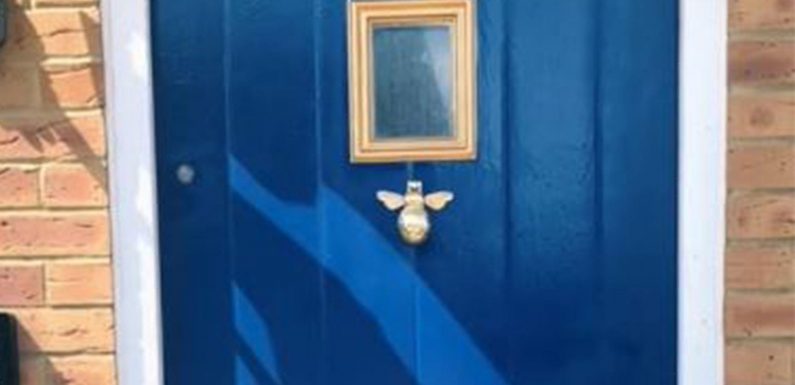 SHE hated her plain white front door which made her house look like a drug den.
So Leah took matters into her own hands and transformed it – for just £18.
"Was sick of my front door looking like a crackhead's door," she wrote over the top of a video shared to TikTok.
"Okayyyy letssss go!"
First of all, she took off whatever hardware she could get off of the door.
Then, she washed and sanded the door.
Read more DIY stories
I'm a home expert & DIY projects can damage your home – when to call pros
I'm a DIY pro, my tip means never sanding your walls after filling holes again
With the fittings she had removed, she took them outside to spray paint them gold, before doing the same with the window frame on the door and the handle.
To finish, she got some blue paint from B&M and painted the whole door, before adding a cute gold bee knocker under the window.
"This was also super cheap to do," Leah wrote in a comment on the video.
"Bee was gifted from Amazon – paint £10 from Amazon, gold spray paint £8 from B&M."
Most read in Fabulous
GRANTASTIC
I'm a wrinkly gran-of-17 & my man's 24 – trolls say I'm old but we're baby-ready
We turned our home into the Love Island villa, but trolls say it's tacky
I've got 34JJ boobs and spent years shopping for bikinis that fit
I've got 30HH boobs and there's only one strapless bra I can rely on
People flocked to the comments section to praise Leah for the transformation, with one writing: "Wow, love it!"
"Nice, well done – good job," another added.
"You'll have people buzzing to knock it now!" a third wrote.
Someone else asked Leah what paint she used for the door, to which she replied: "Leyland weather shield – regal blue.
Read More on The Sun
I've got 34JJ boobs and spent years shopping for bikinis that fit
Our neighbour built extension touching our home – now we must pay HER £130k
"It's on Amazon for £10."
"It looks great! Much better and I love blue and gold together," someone else commented.
Source: Read Full Article