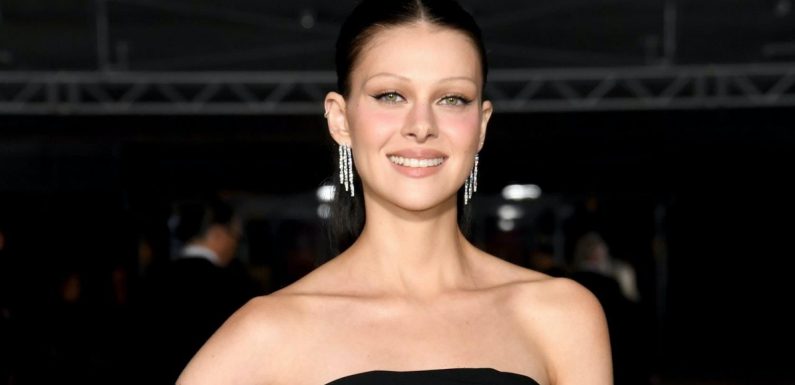 Written by Harriet Davey
Be prepared to feel nostalgic – Nicola Peltz Beckham has been wearing all the 90s trends, including mega-hoop earrings, a bandana and wrap sunglasses.
While most of us spent New Year's Eve in a bar, at a house party or on the sofa waiting to watch the countdown on TV, Nicola Peltz Beckham spent hers on a yacht in Mexico with husband Brooklyn and new BFF Selena Gomez. We assume this is a relatively new friendship because Selena wasn't at the pair's wedding back in April 2022, but Nicola posted a picture on Instagram with the singer in November last year having a girls' night in wearing matching pink pyjamas to celebrate Selena's new documentary, My Mind & Me. And how did they ring in 2023? Wearing matching Valentino sparkly mini dresses on a private beach (still in Mexico), of course. And guess what? Nicola even posted a picture of them with matching 'angel' tattoos. The new Hollywood cool girls? We think so. 
While we naturally took a moment to admire the Valentino frocks, it's Nicola's holiday wardrobe that caught our attention. Making us feel instantly nostalgic, the actor wore every 90s accessory our teenage selves would have worn – all at once.
Posing with Selena and Brooklyn on the sandy shores, Nicola made us think it was 1999 in her paisley print bandana headscarf – a Christina Aguilera and Justin Timberlake favourite. Not only this, but Nicole also teamed it with supersize hoops (the bigger the better for this 90s style), an ear cuff, layered bangles and mirrored wrap sunglasses. Worn with a white tank top and halter neck bikini top to finish off the throwback look. 
If we were to enter '90s trends' into Pinterest, we're pretty sure all of these things would top the list. 
Christina Aguilera 1999
Another fan of all things 90s is supermodel Bella Hadid. We have to say, though, she went one step further by trying out skinny brows. We're sure most people who over-plucked in their teenage bedrooms will shudder at the thought. And yes, she also made a case for the return of the skinny neck scarf and rhinestone-adorned sunnies. 
Bella Hadid wearing 90s sunglasses
It's giving us Paris Hilton circa 2001 vibes, and with the return of everything Y2K, we're not surprised all of the throwback accessories are continuing to make a comeback. 
Paris and Nicky Hilton 2001
Ready to relive the 90s? Shop the look and channel Nicola Peltz Beckham's new year look thanks to Claire's, Accessorize and more. 
Shop retro accessories 
Claire's paisley bandana

Hands up who owned one of these and wore it around their head, wrist or belt loop? It was most likely bought from Claire's back then, and you can still rely on its treasure trove of accessories now. 

Shop Claire's paisley bandana, £3

BUY NOW

Accessorize large simple hoop earrings gold

Supersize skinny hoops will forever be a 90s and 00s throwback, and Nicola is bringing them back. 

Shop Accessorize large simple hoop earrings gold, £5

BUY NOW

Asos 90s mid oval sunglasses

It's all about those wrap-around-the-face pairs that look like they could have been picked up at a petrol station. Luckily, Asos has loads of them. Not into this style? Coloured lenses, supersize aviators and bejewelled styles are also back. 

Shop Asos 90s mid oval sunglasses, £15

BUY NOW

Daphine Moane bangles

To make the look feel fresh this time around, just layer a few bangles all the way up your arm. Oh, and make sure they're metal instead of rainbow rubber.

Shop Daphine Moane bangles, £110

BUY NOW
Images: Getty; courtesy of brands
Source: Read Full Article