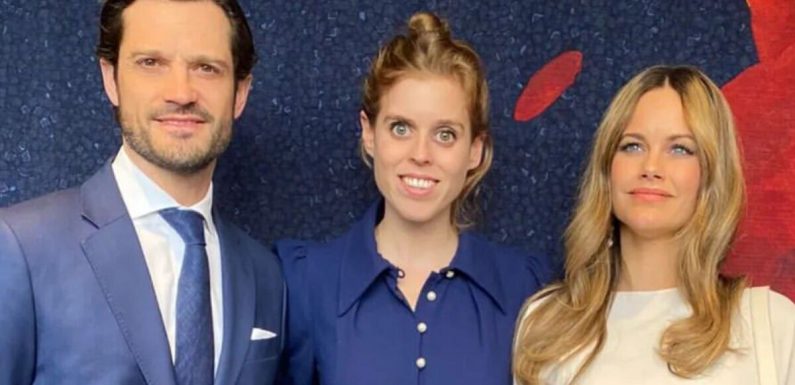 Princess Beatrice joined Princess Sofia of Sweden, 38, in New York for the World Dyslexia Assembly. The Princess of York has always been a champion of those with dyslexia, having been diagnosed with it at a young age herself.
Princess Beatrice stepped out in New York dressed in an outfit she has worn many times before – her "Ahana" navy dress from Beulah London.
The definition says: "Our best-selling Ahana has been crafted in a beautiful rich navy, with a longer sleeve length appropriate for colder months.
"This dress is an elegant choice for any season. It is crafted from RWS-certified wool crepe and shaped to a fit and flare silhouette with an updated classic collar and sweeping skirt that's belted at the waist for a figure-defining fit. Note the charming button-front offering a classic look.
"Manufactured and crafted in London, supporting British manufacturing. Made from 100 percent wool, which is RWS certified.
"The responsible wool standard requires all sites, from wool farmers to the entire supply chain to be certified.
"RWS farmers and ranchers must meet animal welfare, land management and social requirements."
The dress sells for a whopping £795 and it looks beautiful on Beatrice's slim figure.
It was not the first time that Beatrice wore this dress, as she wore it last month in March at a United Nations event.
Don't miss…
Queen Camilla shows close bond to Kate with Van Cleef & Arpels brooch [LATEST]
Lady Louise may have room professionally cleaned weekly at university [PROPERTY]
Queen Camilla says she's 'too old' for Princess Anne's favourite sport [DIET]
The Princess paired her dress with some black block heels which looked lovely with the navy gown.
Beatrice tied her hair up in a high bun, which was a new and different look for the Princess, who normally has her hair down straight.
Royal fans loved Princess Beatrice's style and took to social media to praise her style.
Instagram user @1961_ava said: "This is a very becoming dress, the design is lovely. The colour suits Beatrice well."
Similarly, @mydocuments_ added: "I love the dress." However, this social media user was not pleased with Princess Beatrice's hairstyle.
They wrote: "I hate that Bea's bow is sliding out of her hair. I think that her hair might be too fine to hold such a heavy ribbon, which is a shame because it is cute in theory."
Other fans were less pleased with the repeated look and thought it was too "old-fashioned".
For instance, @kitsascaffidi commented: "Not loving this. Kind of old-fashioned in my opinion and appears ill-fitting."
Also, @rebpat1113 said: "I feel this is such a 'Kate dress' with the puffy sleeves and buttons and old fashioned silhouette.
"I don't mind it on Bea although the colour makes her fade into the chair. I wish her hair had been done a little bit more neatly but nice to see her out for this cause."
Royal fan @elainesusan26 likes the style of dress but prefers a different colour on Beatrice. They wrote: "She really likes these Beulah London dresses, but the green version looks best on her."
Finally, @varvati commented: "A little rough around the edges. I think it's the hair."
Source: Read Full Article