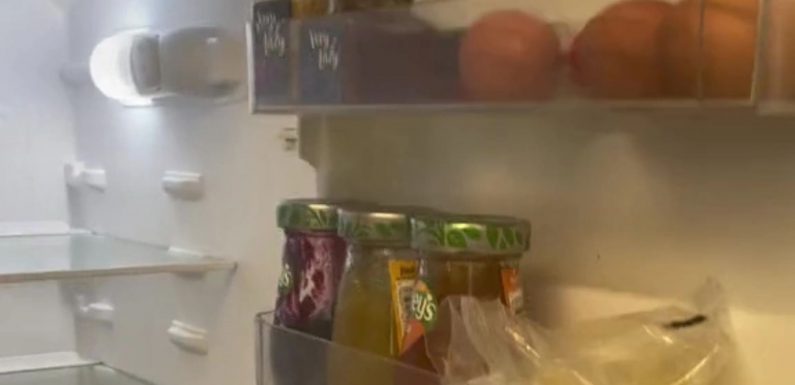 A WOMAN has managed to survive for an entire month without doing a food shop. 
Ellamay Williams, who describes herself as a mum, author and writer, took to her TikTok account to share what was leftover following her month of no food shopping after getting creative with her meals. 
She documented the entire process, from sharing everything she initially bought from the grocery stores to the meals she and her family ate on a daily basis.
One day, she had a banana and peanut butter on toast for breakfast, while her son had a waffle.
For lunch one day, she had roasted garlic rice with pork tenderloin and vegetables, which she followed up with a protein yoghurt. Meanwhile, she had everything from burritos to pasta for dinner.
Following the long month of March, she decided to take a look at what stock was left over as she shared a clip opening her fridge up for viewers to see. 
READ MORE ON FOOD SHOPS
I've found a secret way to nab food bargains – I got an epic haul from just 1p
Woman reveals her £8 food haul – there's a catch but it's worth it
"I stopped food shopping for an entire month because I am a food hoarder and now this is what my food stock looks like," she said. 
Her fridge looked almost empty, with just some fruit and vegetables in the bottom drawer and a variety of sauces in the side compartments. 
Admitting that she did top up on a few fresh things, she said: "I spent £48 for the entire month. I still have some veggies, apples, lemons, red onions… I still have some butter. 
"Along with this garlic, a couple of eggs, I have an assortment of jams…" 
Most read in Fabulous
Mum issues warning about swimming costumes which all parents need to be aware of
I've got an apron belly, I found a hack that makes me look seamless in anything
I bought 20 drinks in McDonald's to see how much I won with their new game
We're property pros – avoid devaluing your home with 5 common garden errors
She then moved on to the freezer underneath as she continued: "My actual freezer doesn't look very empty, however we'll get there. It's a slow process. 
"I'm really happy that you can see some gaps and I can actually open the drawers freely now." 
Opening one drawer, she explained that it looked "rammed" as it was full of frozen fruits and meals. 
In the third drawer down, she stored frozen chicken, while the last drawer had vegetables in it. 
This wasn't her only freezer though as TikTok user @ellamaywilliams3 then turned to her chest freezer, which had been stocked to the brim at the start of the month. 
"I could barely open this in the before, so I'm really pleased with this dent – there's like 10 inches of dent," she said. 
Ellamay then showed what was left in her "breakfast bin", which had cereal bars from Alpen, Special K and more. 
And her cupboard, which she said was once "overflowing", appeared less dense in volume. 
"Now, I am still going to get a few things for my son," she continued. "We need breadsticks, we need rice, these kinds of things…"
Opening a drawer full of tins, Ellamay admitted she wouldn't be stocking back on them too much other than getting chopped tomatoes. 
While she admitted that she would be topping up on fresh and cupboard foods, Ellamay said that she wants to ensure her freezer is empty so she can replace it. 
"We did it! That's everything… An entire month down," she said as the video ended.
In the caption, she added: "Here it is! The big reveal! My food stock after a month of no shopping!" 
People were left impressed after she completed the challenge and took to the comments to praise her on the achievement. 
"You've done amazing! So clean! Now you can restock with fresh and not have to eat things you bought 6 months ago! I'm sad this is almost over," [sic] one person wrote. 
Another shared: "You've done such a great job, it was so great to see your progress everyday!" 
A third asked: "How did you do emotionally, I go into panic mode and am stressed beyond measure when I let the fridge go empty.." 
She replied: "It was challenging at first but I got into it!!!"
Read More on The Sun
Coronation Street fans shocked as Tina O'Brien reveals her real age
Mum issues warning about swimming costumes which all parents need to be aware of
While a fourth questioned: "how much do you think you have saved by not buying as much?"
Ellamay responded: "I used to spend at least £100 a week!" 
Source: Read Full Article