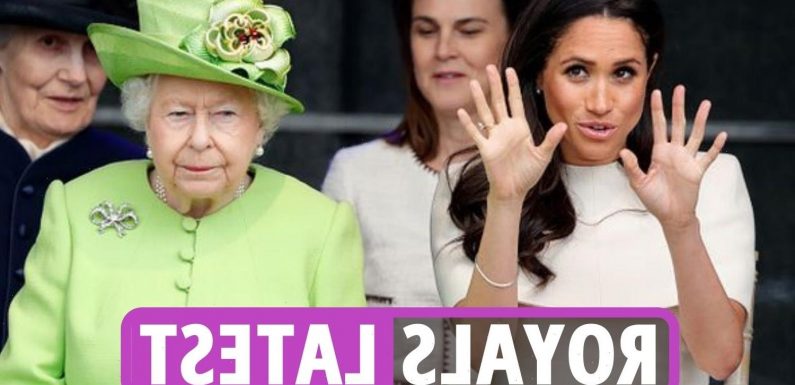 PIERS MORGAN has taken to social media to brand it "outrageous" that Meghan Markle is using her royal title to lobby for change by reportedly cold calling Senators.
On Twitter, Piers wrote: "Just outrageous for Princess Pinocchio to use her royal title for political lobbying like this.
"The Queen must stop the Sussexes causing such endless damage to the Monarchy's reputation.
He ended his post by writing: "Take their titles away".
Read our Royal Family live blog below for the very latest updates…
Milica Cosic




It was either 'Meghan or the monarchy'

According to Royal biographer Andrew Morton, his new book Meghan and the Unmasking of the Monarchy claims the duo decided to leave the UK years before Megxit.

He said: "For Harry, it was either Meghan or the monarchy."

Morton said that Meghan talked about the fact that: "people hate me just because I'm breathing. What's the point of continuing?

"She had some pretty dark nights of the soul in the times that she was a member of the Royal Family."

Regardless, Mr Morton feels Prince Harry's decision to leave the Firm was influenced by Princess Diana's death.

"He's trying to protect Meghan in the way that he couldn't protect Diana, and I think that's very deeply embedded in his psychology."

Milica Cosic




Harry & Meghan planned Oprah chat 'years in advance'

Prince Harry and Meghan Markle reportedly ended up planning their bombshell interview with Oprah Winfrey "years in advance."

Royal biographer Andrew Morton made this claim while speaking to CTV'S Your Morning.

CTV'S Your Morning is a Canadian breakfast television program.

There Andrew admitted: "They were planning the big Oprah interview several years before it actually happened."

Milica Cosic




True colours

A BODY language expert has claimed that Prince Harry made a gesture at the end of his Oprah Winfrey interview that showed his true feelings towards the Royal Family.

Speaking on his YouTube channel, Jesus Enrique Rosas said Harry began to laugh as the credits started, before catching himself and allegedly mimicking sadness.

He said: "You'll be surprised by how someone's real attitude and emotions can show when they think the cameras are not rolling anymore. And, Harry and Meghan are not an exception.

"Saying that Harry was forced to do this [interview] doesn't make sense, because how come he was laughing at the end?

"So, going back to the clip at the end of Oprah's interview and after doing a systemic analysis of intentions, and what has happened since then – realising that Harry has been absolutely in control of his actions all this time."
Milica Cosic




Thomas Markle's shocking claims

Thomas Markle wrote public letter in 2018 in which he branded her up-coming marriage to Harry at "fake fairy tale" and it would be the "biggest mistake in royal wedding history".

He had also previously described her as a "phony", a bully, and a "jaded, shallow, conceited woman."

Despite Thomas's latest outburst about his sister he nevertheless said he want to make up with her – which again prompted gasps from the housemates.

"Yes I'll answer the phone if she picks up the phone," he said.

"Everybody has always loved Meghan, everybody has always supported Meghan.

"I mean I may say bad things about her, I may write horrible letters about her but the end result is that I do love my sister."

Earlier he branded the duchess "shallow" and said she will dump Harry, the same way she "walked all over" her first husband Trevor Engelson.

Milica Cosic




The highest pedestal into life

Thomas Markle Jr told housemates on Australia's Big Brother VIP that Megan "knew what she was getting into".

He continued with his onslaught on Megan saying: "if you got a job and you got paid $4million salary a year to bow and curtesy and shake hands and take pictures and do some charity work here and some charity work it's about the highest pedestal you can get to in life.

"So do your job and don't gripe about it."

Milica Cosic




Not buying it

MEGHAN Markle's brother has said he "doesn't 100 per cent buy" her claims of battling with mental-health problems.

Thomas Markle Jr told housemates on Australia's Big Brother VIP he didn't agree with the allegations made by the Duchess of Sussex in her bombshell interview with Oprah Winfrey.

Speaking to his Big Brother housemates as he was interviewed by the show's presenters, Thomas took issue with his sister's claim.

"I don't 100 per cent buy that and I don't agree with some of the things on the Oprah interview like not having those services available. I can't imagine being that sheltered. "

Milica Cosic




Lilibet the 'American Princess'

Lilibet is 'going to be the first ever American princess' claims a royal author.

Royal biographer Andrew Morton in his biography "Meghan and the Unmasking of the Monarchy" has pointed out that Lilibet is "going to be the first ever American princess".

He added "I think America will embrace her as an American princess."

Morton feels that the Sussexes children in the US will continue to capture the attention, even if Archie was born in the UK.

Milica Cosic




Leaders of the slimmed down monarchy

Royal biographer Andrew Morton has said that Harry and Meghan's influence was diminishing.

Morton said: "I think the irony is that Prince Charles and Prince William saw themselves as being the leaders of the slimmed down monarchy.

"In a way, Harry and Meghan have done them a favor by jumping ship, rather than being asked to walk the gangplank."

The author believes Meghan and Harry would have played a supportive role under Charles and William, though they would have been lower down the "pecking order", especially as William and Kate Middleton's children grow older.

Milica Cosic




Meghan and Harry 'did William a favour'

According to royal biographer Andrew Morton, Prince Harry and Meghan Markle's decision to move to California and bring up their children away from the rest of the Royal Family has done Charles and William a favour.

Morton has updated his biography "Meghan and the Unmasking of the Monarchy" which looks at the path taken by the Duchess of Sussex to where she is today as a Californian mum of two.

Morton has said that while Harry now tries to project a more humble image in the US, it is clearly not the case but he does feel that the Sussexes have made it easy for plans to slim down the monarchy by moving out of the way.

"I think that the narrative that they'd like to project is that they arrived in Los Angeles with a couple of suitcases and a cuddly toy and that was it," Morton told Salon.com.

He also said: "I think the reality is that they've been planning this move to Hollywood for some time, not necessarily where they were going to live."
Milica Cosic




Princess Royal visited Northern Ireland this week

This week Anne, The Princess Royal has been in Northern Ireland, visiting local businesses and communities.

HRH toured the factory of the innovative company, Seating Matters.

She also met staff and volunteers at the Limavady Community Development Initiative.

Milica Cosic




Megan's political plea from a 'mum' not a politician

Megan has insisted that the plea was sent as an American and a "mum" and not a politician.

She wrote in her letter: "I'm not an elected official, and I'm not a politician. I am, like many, an engaged citizen and a parent.

"And because you and your congressional colleagues have a role in shaping family outcomes for generations to come, that's why I'm writing to you at this deeply important time – as a mom – to advocate for paid leave."

America currently has no system for paid parental leave, although President Joe Biden has vowed to introduce it.

Milica Cosic




Meghan's letter to senators a 'first try'

Royal experts had previously called her letter, addressed to Democrats Chuck Schumer and Nancy Pelosi, a "first try" for the Duchess to move into politics.

Angela Levin, author of Harry: A Biography of a Prince, said: "Meghan's first try for a political role perhaps.

"She's writing to Nancy Pelosi and Charles Schumer 'on behalf of all families' to get paid leave."

However, although admitting that there was a "good enough cause" – many would "question her real motive" amid accusations of "hypocrisy".

Lisa McClain, a Republican representative for Michigan, believed that Meghan Markle's attempt was "incredibly out of touch with the American people," adding that she should "stick to acting instead of trying to play politics".

She said: "The last thing we need right now is wealthy celebrities pushing their liberal agendas on the American people."

Milica Cosic




Meghan calling on a blocked caller ID

In an attempt to include paid parental leave in a Bill, The Duchess of Sussex lobbied Republican senators by calling them with a withheld number.

Meghan apparently called senators Shelley Moore Capito and Susan Collins on a withheld number, when they answered the phone they were told: "This is Meghan, the Duchess of Sussex."

Now, an American senator has mocked Meghan Markle saying she's "more interested" in what her constituents have to say after the Duchess of Sussex cold-called her.

Senator Capito said she was the wheel when her phone went.

"I'm in my car. I'm driving. It says 'caller ID blocked'," the senator recounted.

Senator for Maine Collins continued to say: "Much to my surprise, she called me on my private line and she introduced herself as the Duchess of Sussex, which is kind of ironic.

"I was happy to talk with her, but I'm more interested in what the people of Maine are telling me about it."

Apparently, The Duchess had been given their mobile numbers by Senator Kirsten Gillibrand.

[email protected]


A day in the life of a soldier prince

The prince's day would start at 5am, when he would jump out of bed with his fellow cadets to tidy his belongings and brush his teeth.

At 6am, Harry, who was known as Cadet Wales, would sing the national anthem with lyrics about his Grandma with his fellows.

Harry said of his time: "I wasn't a prince. I was just Harry."

Harry had a decade-long distinguished military career, rising to the rank of Captain.

Harry, Duke of Sussex, had the service number 564673 and was not just there to make up the numbers but performed two tours of Afghanistan, picking up a number of gongs along the way.

The titles he earned during his ten years in the Army are not affected by his decision to step back as a senior royal.

However, Harry's positions as Captain General of the Royal Marines, Honorary Air Commandant of RAF Honington and Commodore-in-Chief, Small Ships and Diving were taken away when he left the Royal Family, pending the review.

[email protected]


Message behind the butterfly

The monarch also wore a diamond and ruby butterfly brooch below her left shoulder which has a very special meaning to her.

The stunning jewellery piece was given to the Queen from the Dowager Countess of Onslow when she married Prince Philip in 1947.

Royal commentator Angela Levin wrote on Twitter: "Fascinating that the Queen had a butterfly brooch on her dress and a photo of her late husband surrounded by butterflies.

"The butterfly is supposed to give a message from the deceased that they are ok and just living in another realm."
Source: Read Full Article