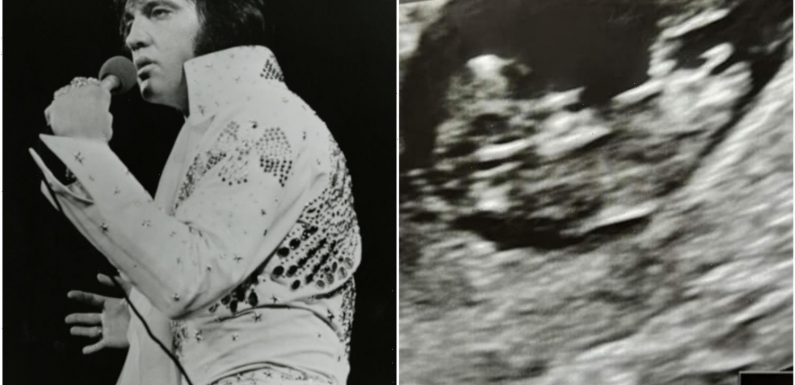 A SCOTS grandmother was left "all shook up" last week after seeing the ultrasound image of her grandchild appearing to be the double of Rock and Roll king Elvis Presley.
Jennifer Syme had been poring over the ultrasound of her third grandchild, which she shared with her husband Steven, 46, via social media.
The 41-year-old was then taken aback when her hubby responded that he was "all shook up", pointing out that the baby hilariously bore a striking resemblance to the Hound Dog singer.
Jennifer from Saint Monans, Fife shared the keen-eyed spot with the parents, who were left in stitches over the spooky coincidence.
Images show the 2D ultrasound scan in black and white, dated 7 February – whilst at the top of the womb, the outline of an 11-week-old baby can be seen.
Upon closer inspection, the image shows a dark patch where the baby's feet are, taking the form of a dark toupée, whilst makeshift sideburns can also be seen, perfectly shaping the singer's 'face'.
Running down from the toupée, a lighter shadow takes the shape of rectangular sunglasses, while a pointed nose alongside a strong set of lips and jawline make up Presley's profile.
To top the look off, a further white shadow lies at the bottom of the 'head', bearing a resemblance to the singer's famous white jumpsuit, often seen paired with sunglasses and volumised black hair.
Jennifer took to social media to share the image on Friday, writing: "We are going to be grandparents again and we think an old familiar face (Elvis Presley) had made an appearance through this scan picture – when you see it you can't unsee it."
The hilarious image received 1,700 likes and certainly hasn't brought a little less conversation to the table, with hundreds of fans sharing their own puns on the post.
Most read in Fabulous
Family in 'agony' after body found near where Nicola Bulley went missing
First words of witness to Nicola Bulley cops after spotting body of woman
Nicola Bulley's family 'braced for worst possible news' after body found
Nicola Bulley's partner breaks silence after body found in river
One person wrote: "I'm all shook up!"
Another said: "Have they thought about returning it to sender?"
A third commented: "Bet you just 'can't help falling in love with' your new grandchild."
Meanwhile a fourth added the hilarious lyrics: "I'm caught in your snatch, I can't walk out because I love you too much momma.
"Why can't I see, open your legs for me, when you don't believe the head you're feeling is me.
"Well, don't you know I'm still caught in your snatch."
A fifth commented: "Thank you, thank you very much."
A sixth joked: "Elvis has entered the scan pic."
Speaking today, Jennifer said: "My son and daughter in-law are expecting their third baby in August, they are just over 12 weeks now. Excited is an understatement.
"I didn't even know they had gone for a scan when they told me about the pregnancy a few weeks back and when they went for the scan I got a lovely wee surprise picture of the baby.
"I asked my son how far along and if everything all good with mum and baby, he was delighted to tell me they are both well and they were 11 weeks.
"So, I forwarded the scan pic onto my husband and he messaged back saying 'aw amazing but I'm all shook up'.
"I couldn't see Elvis Presley in the scan pic, so he circled the pic and sent it back to me and I couldn't believe my eyes.
"There he was the king himself, sideburns and all. He's a big fan of Elvis – me not so much.
"I sent it to my son and he said that's spooky but so cool, my daughter in-law thought it was funny."
Elvis Presley rose to superstar status in the 1950s, and boasts a catalogue of hit songs including Blue Suede Shoes, Suspicious Minds, Jailhouse Rock and many more.
Read More on The Sun
First words of witness to Nicola Bulley cops after spotting body of woman
I'm only 27 & worth six-figures…the 5 mistakes you're making that keep you poor
Tragically, the singer died in 1977 at the age of just 42 after suffering a heart attack at his Graceland mansion in Memphis, Tennessee.
We pay for your stories and videos! Do you have a story or video for The Scottish Sun? Email us at [email protected] or call 0141 420 5200
Source: Read Full Article