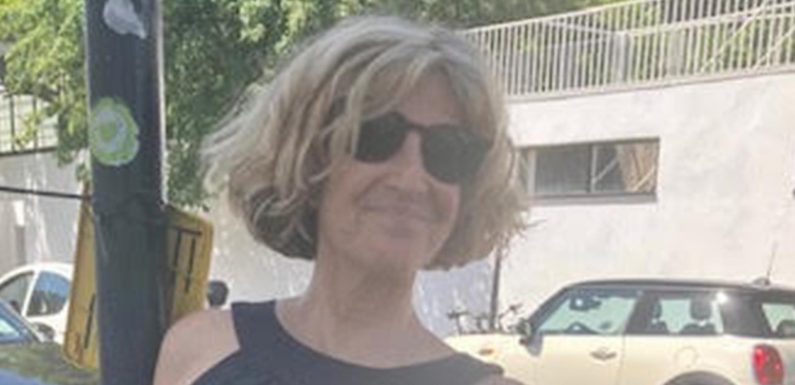 RECENTLY, I noticed a man staring at me in the supermarket.
"Did I know him?" I thought. Then it hit me: it was because I wasn't wearing a bra.
I spent the whole time trying to conceal my sagging embonpoint behind an economy pack of toilet paper rolls.
Hanging free in the middle of the supermarket suddenly felt a bit too suggestive. 
This is just one of the perils of ditching the bra in my later years. I am 61.
While younger women have been embracing the no bra movement for a while now, when it comes to the middle-aged, it wasn't until the pandemic that many of us were able to escape the tyranny of the boob prison. 
Suddenly locked down, we were swapping nights out in bars for comfy PJs and video call catch-ups in bed.
And the one thing that many of us ditched was our bra. 
Like so many women, I got used to not having to strap myself in in the morning.
Ditto, no more whipping off the contraption after a long day of hoisting bra straps and stabbing underwire.
Most read in Fabulous
Kate has royal fans in stitches over cheeky moment with William at Baftas
I have big boobs – people don't understand how hard they are to live with
I'm 53 with big boobs – cute bralettes are meant to be seen, even on busty gals
I got my dream tattoo, it's not what I wanted but trolls say I'm in the wrong
It was gloriously liberating and an instant mood booster. I live alone, so it was an easy move, with no glaring teenagers.
Research carried out by Censuswide for Tu in 2021 revealed that 46 percent of women discarded their bras in the name of comfort at least once a week during the pandemic.
A YouGov poll in 2021 found that a third of British women, of which I am one, threw out their bras in lockdown.
So you would think permanently binning such an uncomfortable contraption would have been a no-brainer.
On the contrary, the minute society opened up again and we got used to being our public selves, many women felt too self-conscious not wearing a bra. And that's fine.
But what really annoys me is that while I see my new freedom as a body-positive move, others are not so accommodating.
The side glances from women at parties, the judgemental tut tutters, and the stares from passersby as I walk down the street have become part of my new normal. 
I distinctly remember at a dinner party last summer — I was wearing a halter neck midi dress without a bra — one older female friend sarcastically joked about me being an attention seeker.
Then the man sitting next to me spent the entire first course gawping. If you have ever seen a lady trying to eat salad with arms tightly crossed, that was me.
When you have been in this position a number of times, you quickly understand that the world still struggles to accept the older woman roaming free. 
The unwritten rule that midlife boobs should be shrouded in thick cotton and nipples modestly hidden is alive and well. 
Psychologist Cary Cooper agrees, saying: "Despite society becoming more and more diverse, older women going braless really is one the last taboos.
"There is still a sort of collective uneasiness about middle-aged women showcasing their sexuality and acting in a liberated way," he added. 
The 2012 study "Influential factors of bra purchasing in older women" by J Fash Mark Manag found that the function of a bra was to reduce temporary breast sag by lifting the breast and presenting a more pert, youthful breast shape, which is commonly seen as more attractive and acceptable in society.
I am small-chested, but there is a definite change. What were two uplifted orbs in my Marks and Spencer's T-shirt bra now hang lower down and the nipples are visible. 
Granted, this may be a bit too drastic for the larger woman, but apart from creating the illusion of uplift, there is no evidence to suggest that wearing a bra stops the dreaded sagging. 
Most experts agree that aging — when the ligaments stretch and the breast tissue loses its elasticity — is the real culprit.
"If anything, going braless can be healthier," argues Glynis Fox, Health professional and President of the Institute of Osteopaths.
"Potentially, not wearing a bra can cause the muscles to work harder and therefore strengthen them."
But mainly, it is about personal choice, she says: "I would encourage my patients to embrace what works for them both mentally and physically."
For me, communicating who I am feels empowering.
Now when I get looks from passersby, instead of slapping my bag onto my chest in a fit of public boob shame, I smile and strut on by.
If you want to rule the room, you need to own your mammaries — whatever the boob police might think. 
"Women shouldn't feel they have to dress a certain way because of their age," says personal stylist Lisa Gillbe.
"There will always be people with fixed views on this, but the most important thing is to dress in a way that makes you feel happy and confident and reflects your 'style personality.'"
Tell that to my older male friend, who at one party told me to put a bra on. He was wearing a pair of black leather trousers.
I am aware that my days of looking flawless sans bra are well and truly over. Like most older women, my body has changed, with middle age spread and saggy boob syndrome being just two of the hard-to-tackle areas.
To give you an example: I was on a date at an upscale restaurant, happily chatting away when I caught sight of myself in the mirror. I was braless and wearing a fitted tee.
"Were those mine?" I thought as I peered at what looked like two droopy spaniel's ears halfway down my chest. But then I thought: So what? 
Read More on The Sun
First words of witness to Nicola Bulley cops after spotting body of woman
I'm only 27 & worth six-figures…the 5 mistakes you're making that keep you poor
I am done chasing the ideal form of pert full breasts, which can only be attained artificially by using a bra.
It is simply too high a price to pay. Sorry, but I'm not going back. 
Source: Read Full Article