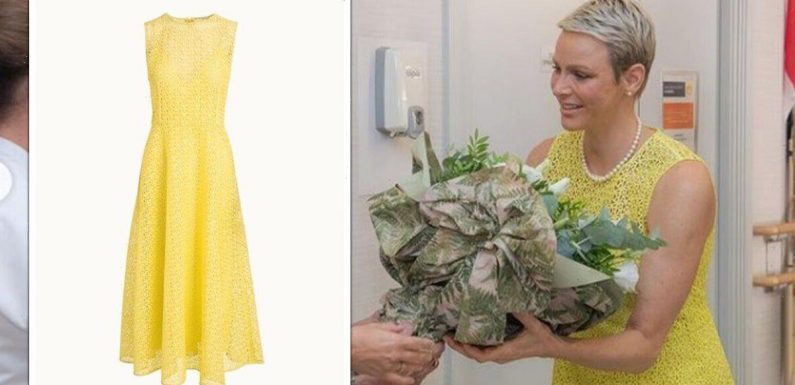 We use your sign-up to provide content in ways you've consented to and to improve our understanding of you. This may include adverts from us and 3rd parties based on our understanding. You can unsubscribe at any time. More info
Princess Charlene of Monaco wore a long yellow dress from Akris. The royal looked pretty in the Infinite Embroidery Long Dress which retails for £3,660.
Princess Charlene combined the yellow gown with a pearl necklace and pearl earrings.
During the touching visit, she looked happy and was all smiles while chatting to residents and workers at the A Qietüdine home.
Yellow is an unusual colour for the Princess, who often opts for more plain and neutral tones.
The description on the designers' website reads: "An emblem of Akris craftsmanship, this long dress is crafted in Infinite Embroidery.
View this post on Instagram

A post shared by Palais Princier de Monaco (@palaisprincierdemonaco)
"A true stand-out piece, this bright dress features a full-length A-line skirt, round neck and sleeveless design."
Royal fans took to social media to praise Charlene's bright look.
Instagram user @graceofmonacogram said: "The yellow colour is perfect for her.
"The dress is absolutely cute. Love it!"
Another one, @florence.pit, commented: "Love the cut and the colour.
"She looks lovely with her pearl necklace (not the kind of jewels she wears often)."
Rotal watcher @mjangelwings858 commented: "Yellow so nice and sunny."
"Lovely! And she looks happy," said @pam.forbes
@candicehenriquez explained: "Yellow suits her well.
"She looks beautiful!"
Royal fan @plbatch56 agreed saying: "Beautiful yellow.
"She looks like she's glowing."
"The colour on Charlene is fantastic.
"I do wish she would move on from on Akris.
"But this is a great look on her," added @ellainthecityboston.
Source: Read Full Article