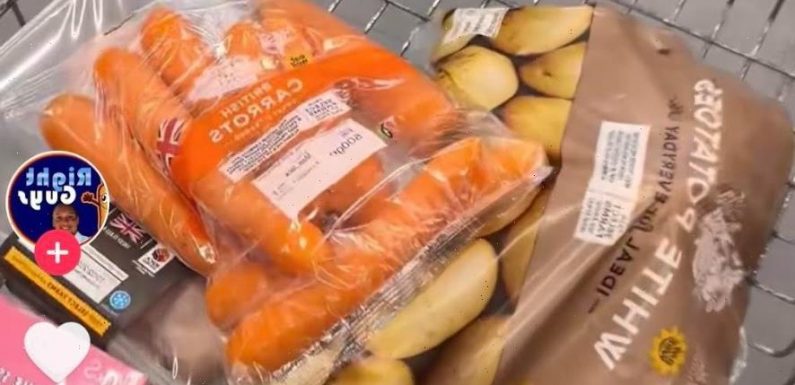 SHOPPERS have been wowed by a mum's £3 M&S food haul.
The upmarket supermarket was even hailed "cheaper than Aldi" for its bargains by eager Brits keen to nab a deal.
TikTok creator Lucy Brown, who posts videos with her husband Mark under the handle Right Guys Review, visited their local branch to try and bag a bargain.
Handed three £1 coins by Mark, Lucy snaked the aisles trying to get the best bang for her buck.
Lucy's first and most impressive discovery was a 600g packet of Oakham Gold Chicken Leg Portions, priced at a paltry £1.20.
With £1.80 over, Lucy then unearthed a bag of White Potatoes for £1, and a 400g bag of carrots and a brown onion for a meagre 65p respectively.
read more food hauls
I nabbed my best supermarket haul for £3.30 – there's enough for a week
I got a huge food haul on a tiny budget including loads of 10p buys…here's how
The total cost was £2.85.
As they triumphantly departed the store, they labelled the contents an "absolute bargain".
Sourcing a smattering of other staple ingredients they had at home, including chicken granules, chicken seasoning and butter – the couple prepare the meal.
Lucy boiled the potatoes skin on and popped them in the air fryer.
Most read in Fabulous
Shoppers rushing to buy £6 Superdrug perfume dupe of £126 Chanel bottle
Inside royal kids' upbringing including Prince known for screaming fits
Shoppers race to buy 'Barbie' leather jacket from Primark, it's a total bargain
I've got big boobs – I'm dress coded for them & people tell me to respect myself
She also boiled the carrots after peeling them and, once soft, mashed them up with a stick of butter.
The chicken is seasoned and placed in the air fryer with the onion, with the residue used to make a flavoursome onion gravy.
A number of the couple's TikTok followers waxed lyrical over the resourceful and inexpensive meal.
One person said: "I love M&S. Feels expensive but has decent prices."
Another agreed: ""I do my monthly food shops in M&S works out a lot cheaper than Aldi these days and tastes way nicer."
A third praised the couple for their considerate and cost-friendly tips: "I'm addicted to you guys! So helpful to others."
Source: Read Full Article