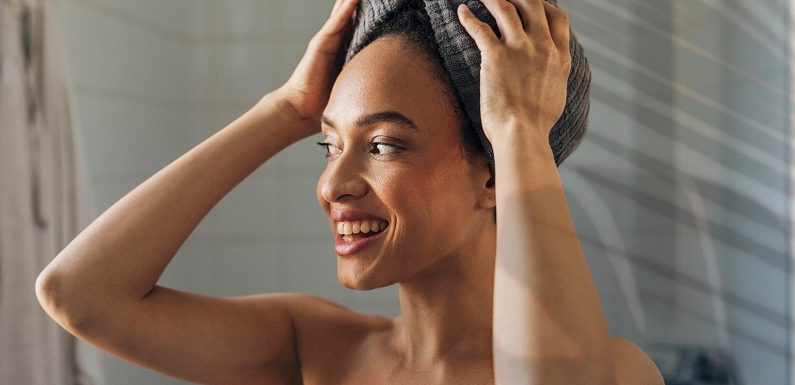 As a Black girl with thick, type 4 natural hair, I'd like to make one thing clear: There is absolutely nothing worse than going through an entire wash day, then coming out of the shower and realizing you still have product buildup on your scalp.
It has happened to me many a time as my hair has gotten longer, and I've gotten equally annoyed in each instance.
Since I typically keep my nails long, I prefer to massage my scalp with my knuckles — clearly, however, that doesn't always do the trick. So when I ColorProof sent me some products to test a few years ago, including a scalp brush, I figured I'd give it a shot.
And let me just say this: Girl. Girl. It's been a total game-changer.
With its soft, long teeth, the tool adequately cleanses my scalp without causing irritation, and I'm able to get the shampoo all the way down to my roots — no problem.
So if you're anything like me and have hair that is thicker than a Snickers, scroll through to discover which scalp brush can turn your wash day all the way around.
ColorProof Scalp Cleansing Brush
Oh my dearest ColorProof brush, how I love thee. My wash day companion has become a staple in my shower, and how could it not be? With its long teeth and easy-to-grip sides, it gets the job done — and quick.
To shop: $19; colorproof.com
Ceremonia Scalp Masajeador
If your hair is short and thick, then this scalp brush is for you. To use, simply wet your hair and apply your shampoo directly to your hair or the tool. Then get your massage on and watch the suds do their thing.
To shop: $16; ceremonia.com
VIDEO: Solange Beauty Moments You Need to See
Dido Head Massager Stone Comb
Okay, fine. So technically this isn't a brush, but it's a great alternative for someone with a tender scalp. Gently use the comb to distribute the shampoo along the scalp and massage it in, then you'll be good to go — just don't try to detangle your hair with it until you've moved on to conditioning.
To shop: $9; walmart.com
Tangle Teezer The Scalp Exfoliator & Massager 
If you're looking for a tool with finer teeth, look no further than this joint from Tangle Teezer. Together, it will work with your shampoo of choice to help to break down product buildup.
To shop: $10; ulta.com
Briogeo Scalp Revival Stimulating Therapy Massager
Much like the ColorProof brush, Briogeo's Scalp Revival boasts long, strong teeth that go right down to the roots. Another bonus is that once you rinse it off, you can use it on dry hair to give your scalp a mid-week massage.
To shop: $18; sephora.com
This is All Natural. From the kinkiest coils to loose waves, we're celebrating natural hair in its many forms by sharing expert tips for styling, maintenance, and haircare.
Source: Read Full Article