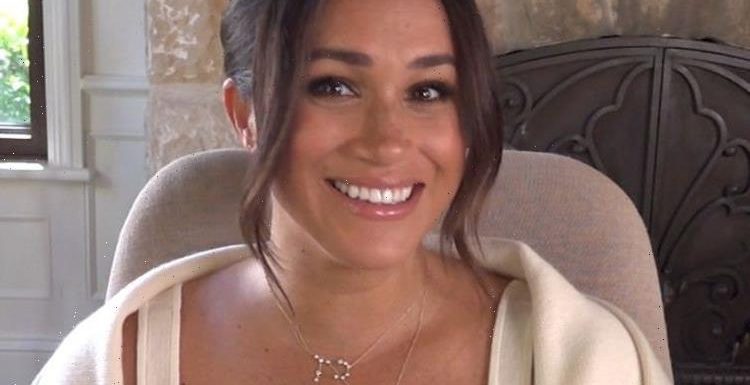 Meghan Markle had 'obsession' with Diana claims sister
We use your sign-up to provide content in ways you've consented to and to improve our understanding of you. This may include adverts from us and 3rd parties based on our understanding. You can unsubscribe at any time. More info
Meghan Markle celebrated her 40th birthday on Wednesday, and she appeared in a special video for her foundation's Archewell website. In a video call with US actress Melissa McCarthy, Meghan launched her new 40×40 project which aims to encourage women back into work. During the call, royal fans got a glimpse of what seemed to be Meghan's beautiful working from home set up at her house in Montecito, California, which she shares with her husband, Prince Harry.
Renowned for her fashion sense, Meghan's outfit for her 40th birthday video has been the subject of much discussion since it was released.
For the clip, Meghan donned a classic white vest, complete with matching white fleece and trousers.
Meghan finished off her working from home look with a pair of brown pumps.
Many royal fans also spotted Meghan chose to accessorise her outfit with some unusual necklaces.
The necklaces actually hold a special tribute to two very important people in the Duchess' life.
The necklaces are thought to be constellations of the respective star signs of Meghan and Harry's two children, Archie and Lilibet.
Harry and Meghan welcomed their first child, son Archie Harrison Mountbatten-Windsor, in May 2018.
The Sussexes recently became parents for the second time, welcoming their daughter Lilibet 'Lili' Diana in June 2021.
Meghan's necklace for Archie is a Taurus constellation, while Lilibet's necklace is a Gemini sign.
The necklaces were designed by LA-based designer, Logan Hollowell, and are made from 14K gold and diamonds.
One Twitter user said Meghan's necklace choice was "a touching tribute to Archie & Lili".
Another royal fan pointed out how Meghan often wears jewellery with hidden meanings.
DON'T MISS:
Royal fans spot adorable similarity between Archie and Harry [INSIGHT]
Meghan Markle enjoys outpouring of support for new project [ANALYSIS]
Samantha Markle slams sister Meghan's obsession with royals [VIDEO]
They tweeted: "Meghan Markle, The Duchess of Sussex has always loved meaningful jewellery, especially ones that allow her to express herself and her love for her loved ones."
Meghan has previously been seen wearing a necklace with the letters 'H' and 'M' for Harry and Meghan.
Meghan has also been known to wear jewellery gifted to her by her husband, which belonged to his late mother, Princess Diana.
For the Sussexes' wedding in 2018, Meghan wore a halter neck wedding dress designed by Stella McCartney.
She paired the dress with Princess Diana's famous emerald-cut aquamarine ring.
Meghan's engagement ring features a large diamond sourced from Botswana.
But the engagement ring from Harry also featured two smaller diamonds from Princess Diana's collection.
During her official visit to Australia with Harry in 2018, Meghan also wore a pair of butterfly earrings that once belonged to the late Princess.
Source: Read Full Article