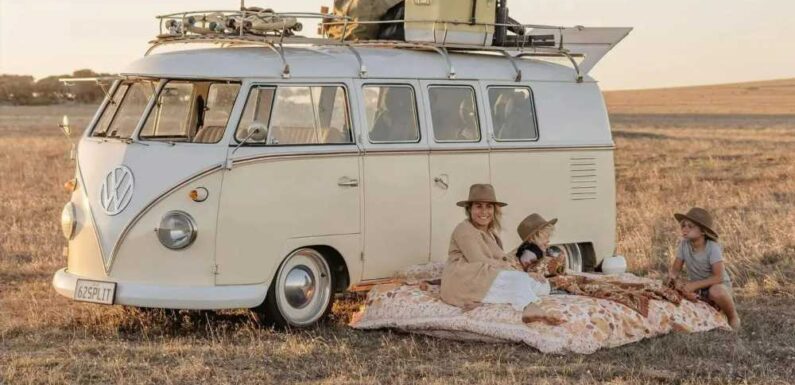 A COUPLE who ditched their high-flying life to move their children into a campervan and travel the world have revealed one dirty downside. 
As Kirianna and Lockie's children are always outside, they get filthy – and the family don't have a washing machine to effortlessly banish mud stains.
Instead, mum-of-three Kirianna, 36, has to manually scrub clothes and wash Riley, seven, Alba, four, and Elsie, one, outside. 
With husband Lockie, 37, the family-of-five live in a cosy caravan which they tow across Australia and New Zealand with a 1920 Volkswagen Kombi. 
Their living expenses range between £25 to £50 a day, including food, fuel and living supplies. But Kirianna warned these prices have "dramatically" risen amid the cost of living crisis.
She homeschools Riley, and plans to do the same for the younger children when they are old enough. 
read more real life
JUST A GHOUL IN LOVE
I'm marrying my dead hubby's pal, his ghost is coming to our wedding
DEC THE DOORS
My petty neighbours hate OTT Christmas door displays but I don't care
The family have called their campervan Izzie and dub it a "tiny home on wheels".
"We saw an opportunity to pack up our house, put everything in storage and build our own tiny home on wheels to experience a minimalist lifestyle on the road," Kirianna told 7Life.
"It hasn't always been easy, but we wouldn't have it any other way."
Kirianna and Lockie met in 2013 when she was working as an air hostess and he as a pilot, eventually moving to Japan together. 
Most read in Fabulous
MYSTIC MEG
The moon and Saturn bring two very different properties on to your radar
GARDEN MAKEOVER
Sue Radford makes change to 'millionaire Morecambe mansion' after holiday
AGE GAP LOVE
Lad, 17, who wed OAP, 71, 2 weeks after meeting at funeral shares sweet snaps
WEIGHT A MINUTE
I went from a size 28 to 14 with an exercise that won't leave you sweaty
They welcomed first son Riley in 2016 but continued travelling the world, visiting a whopping 37 countries before he turned one.
Kirianna said that "Australia was always calling them back" so the family completed a lap of the mammoth country in 2018. 
The following year, they welcomed daughter Alba. 
When Lockie's job was put on hold in 2020 due to the coronavirus pandemic, the family decided to travel around Australia for a second time.
"And off we went… This time an extra car seat with our wriggly baby girl Alba," Kirianna said.
"Fortunately, we had some savings before setting off on our journey. So we fund our travels from savings and also do freelance photography and writing along the way, which has provided our family with an income."
Kirianna credits working as a flight attendant and living in a cramped Japanese apartment with giving her the skills to live a minimalist lifestyle on the road. 
"We faced some challenges during our travels, but we overcame them quickly," she said.
"This trip humbled us and adopted us into a more minimalist lifestyle that has had a positive impact on our family."
After giving birth to their third child, daughter Elsie, last year, the couple decided to invest in a 1964 Franklin Caravan that they tow around with their VW campervan. 
"Every night, we get to enjoy a peaceful and cosy time in our caravan," Kirianna said.
"On one side, Lockie and I snuggle up in a spacious queen-sized bed, while on the other side, Riley and Alba get to relax in a comfortable lounge area that doubles as a bed.
Read More on The Sun
TIME OUT
How to take 55 days' holiday in 2024 by booking just 25 days of annual leave
MARKED DOWN
Mark Wright and Michelle Keegan home-shamed as they reveal decor at mansion
"And for our little Elsie, we have a cute little cot that fits perfectly next to us.
"Our setup may be simple and small, but it has everything we need for a comfortable and restful sleep."

Source: Read Full Article