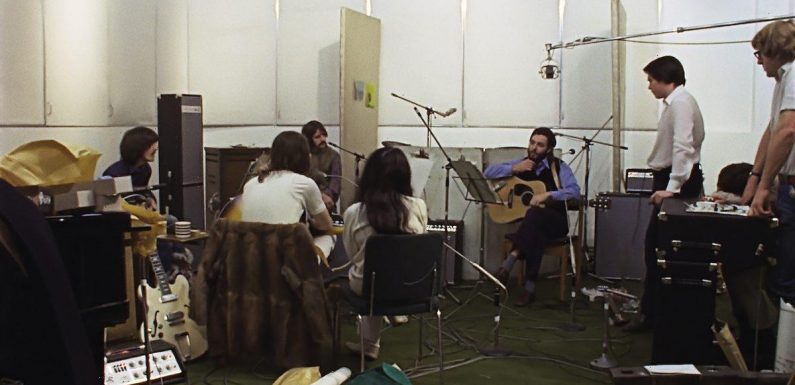 We've already learned so much about The Beatles in Part 1 of Peter Jackson's The Beatles: Get Back. Paul McCartney, Ringo Starr, and Jackson himself were right about the three-part documentary. We are witnessing a different side to The Beatles that we never knew we'd get to see. However, it is a lot to take in. So, to refresh our memory before you start watching Part 2, here's a recap of all the key moments of Part 1.
10. None of The Beatles were in agreement over the documentary/TV speacial
The Beatles asked filmmaker Michael Lindsay-Hogg to film the band recording new material they planned to perform during a TV special. That was the initial plan. However, The Beatles didn't really know anything more than that. Ringo didn't want to go abroad. But they had to figure out where they wanted to film this TV special.
Initially, the plan was to film at Twickenham Studios, where they were filming the documentary. But building a set with see-through scaffolding wasn't what Lindsay-Hogg had in mind. He thought it was "too easy" and wanted something that complimented the music and included the would.
Linsay-Hogg tried convincing The Beatles' that they should get a crowd of their fans to an amphitheater in Sabratha, Africa. He told John Lennon that it might heal all the wounds between John and Paul. John agreed. Paul wanted the show to be somewhere they shouldn't be or at least somewhere outdoors, but it had to be in England. He thought maybe the studio or a ballroom would be a good fit.
John didn't want to "build another castle" around the band, so he liked the amphitheater idea. George Harrison and Ringo were completely against it. Then, Paul suggested they give some lucky fans some tickets to a boat ride, which would take them to Sabratha. George thought getting a boat was "expensive and insane." Then, Lindsay-Hogg suggested a hospital that isn't full of really sick children, just children with broken legs or something, or maybe an orphanage.
9. Paul made the decision to stay at Twickenham Studios even though it wasn't practical
In the beginning, George says that Twickenham "isn't a very acoustically good place." Paul and George Martin, the band's producer, agreed. However, Paul told Lindsay-Hogg and company that The Beatles would stay there, play and move out in a couple of days, or maybe they wouldn't. It seemed like a conversation that had to be with the whole band, but Paul sort of took the reins on the decision. Later, George got shocked by his microphone.
8. The Beatles liked to reminisce
At certain points in Part 1, The Beatles reminisced about their past. They sang songs that used to be on their live setlist and other songs by their earliest idols like Chuck Berry. They also looked through a Beatles fan club magazine at one point. George read a line in the magazine that said, "What do you think of George's pseudo tie sweatshirt?" He replied, "I think it's terrible."
7. John and Paul considered using old songs on 'Let It Be'
Since they were on a tight schedule with limited time to churn out an entire album, Paul and John considered using some of their earliest songs. Paul told Lindsay-Hogg that there were about 100 songs from the time when Paul and John first started writing songs together in school. He said they never thought about using them because they were very "unsophisticated." However, they tried "Just Fun," "Because I Know You Love Me So," and "Thinking of Linking."
Obviously, they scrapped most of them for the album. But one old song did get chosen to appear on Let It Be, though, "One After 909," which John wrote when he was 15 years old.
6. They already had some songs written that appear on later albums
It was interesting to see that, throughout Part 1, The Beatles already had some songs written that either appeared on their next and last record, Abbey Road, or on their future solo albums. For instance, George shows the band one of his future hits, "All Things Must Pass," which George's son Dhani teased. Ironically, John and Paul sing a duet on "Gimme Some Truth," the song John later recorded solo as a revenge song against Paul following The Beatles' split.
By this time, Paul had already written "Maxwell's Silver Hammer," "Golden Slumber," "She Came In Through The Bathroom Window," and "Carry That Weight."
5. George Harrison hated 'Don't Let Me Down'
In the first couple of rehearsals for "Don't Let Me Down," George was having trouble with his parts. He suggested things, but Paul didn't like his ideas. When they were done, George said, "It sounds like the same old s***." John said he liked the "same old s***." Paul and George seemed to go at each other a bit. They tried it again, John and Paul liked it, but George said he thought it was "awful actually." Things didn't get better between George and Paul.
4. The Beatles had 'grown' shy since Brian Epstein's death
Paul said they had to do all this for a reason; it can't just be for the money. John said they were doing it to communicate to the fans. Paul just wanted to see some enthusiasm. George said that it could potentially become something they don't like. Paul said they would have to throw in the towel and disband if it turned out that way. Then, George said, ever since Mr. Espstein (Brian Epstein-their late manager) died, it was never the same. Paul agreed that the band had become very negative since Epstein died. That's why everyone started getting sick of the group.
"It's discipline we lack," Paul said. "We've never had discipline. We had a sort of slight, symbolic discipline. Like Mr. Espstein. You know, he sort of said, "Get suits on," and we did, you know. And so we were always fighting that discipline a bit. There really is no one there now to say, "Do it." Where is, there always used to be. Daddy's gone away now, and we're on our own at the holiday camp. I think we wither go home or we do it.
"I think we've got a bit shy, you know?"
3. George was inspired to write 'I Me Mine' after watching a European ball
George told Ringo and Lindsay-Hogg that he watched a BBC 2 program called Out Of The Unknown the night before. It was about a man who goes back in time and tries to transfer his mind into a "young and active body." After that, a program called Europa came on, which was "a look at pomp and circumstances through European eyes." The waltz scene made George think of a song called " I Me Mine." He played it for the rest of the group, but they didn't really seem enthusiastic about it. So, George said he didn't "give a f*** if they wanted the song," it could go in his "musical."
2. Paul and George argued through 'Two of Us' and 'Get Back'
After arguing on "Don't Let Me Down," George and Paul started their infamous fight during rehearsals for "Two Of Us." Paul said they needed to come together because they were all "at odds" with each other. They needed to work through the songs, and then they'd complicate them later and George said he'd just do the chords. Then it turned into a mess. Paul said he always heard himself annoying George and that he was scared of being the boss, which he'd been for a couple of years.
"I always feel as though I'm trying to put you down and stop you playing. But I'm not. I'm trying to stop us all playing until we know what we're playing," Paul said to George. "But you've got to play in order to find which fits and which doesn't," George replied. Paul continued that he was the only one saying it, as the rest of them sat there thinking he was repeating it. "I never get any support or anything," Paul said. "I'm not trying to get you," he told George. "I'll play anything you want me to play. Or I won't play at all if you don't want me to play," George said. "Now, whatever it is that will please you, I'll do it."
Later, Paul and George fought again during rehearsals of "Get Back." There were some great collaborations on the song between Paul and John, but then George, who felt ostracized the whole time, started butting heads with Paul again. Paul was trying to make the song sound less ordinary, but George didn't understand him. "You need Eric Clapton," George shot back.
1. The Beatles fell apart after George suddenly quit
After what happened earlier in the day with "Get Back," George had had enough and suddenly quit during lunch. "I think I'll be leaving the band now," he said. "When?" John replied. "Now. Get a replacement. Write into the NME and get a few people," George said. Leaving, George told the group he'd see them "'round the clubs."
After lunch, The Beatles continued without George, and it all sort of fell apart. "Just pretending like nothing's happened," John said. They proceeded to play their instruments angrily through another rehearsal of "I've Got A Feeling" and "Don't Let Me Down." They could have been Nirvana for a minute. Then Yoko got behind the microphone, and all hell broke loose. Paul even started climbing the scaffolding.
Lindsay-Hogg asked if they should say George was sick. John said if George leaves, he leaves. "If he doesn't come back by Tuesday, we get Clapton," he said.
"Really, the box that George is in… it's him versus John and Paul when it comes to what they're gonna do and what they're gonna play. And you try doing that for a few months. You're going to end up pissed off," Neil Aspinall, Apple's managing director, said.
Martin didn't seem as sympathetic toward George. "They're our songwriting team and he's his own team. And if he's not working on his own songs…"
Later, the remaining Beatles hugged and decided to meet at Ringo's house with George to discuss their course of action. We'll see the result in Part 2.
Source: Read Full Article